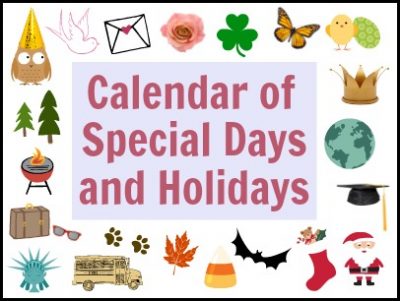 Each month there are numerous special days and holidays that we can celebrate with children, and often use as a learning tool as well. There are of course the popular holidays such as Valentine's Day, Christmas, and Easter. However, there are tons of fun and even silly special days such as National Carrot Day and Penguin Awareness Day.
Special Days and Holidays
To access crafts and recipes specific to these days click on the months below.
1/1 – New Year's Day
1/5 – National Bird Day
1/6 – Bean Day
1/8 – Bubble Bath Day
1/18 – Hat Day
1/18 – World Snowman Day
1/19 – Popcorn Day
1/20 – Penguin Awareness Day
1/21 – Martin Luther King Day (2019)
1/28 – International Lego Day
1/29 – National Puzzle Day
Black History Month
National Cherry Month
National Wild Bird Feeding Month
2/2 – Groundhog Day
2/3 – National Carrot Day
2/9 – National Pizza Day
2/14 – Valentine's Day
2/18 – President's Day (2019)
2/27 – International Polar Bear Day
3/1 – National Pig Day
3/1 – Peanut Butter Lover's Day
3/2 – Dr. Seuss's Birthday
3/5 – Mardi Gras (2019)
3/17 – St. Patrick's Day
3/18 – Johnny Appleseed Day
3/20 – First Day of Spring
International Guitar Month
National Frog Month
National Garden Month
4/1 – April Fool's Day
4/3 – Find-A-Rainbow Day
4/8 – Zoo Lover's Day
4/9 – Unicorn Day
4/11 – National Pet Day
4/19 – Passover (2019)
4/21 – Easter (2019)
4/21 – Kindergarten Day
4/22 – Earth Day
4/23 – Home Run Day
4/26 – National Pretzel Day
4/27 – Arbor Day (2018)
American Bike Month
Flower Month
National Duckling Month
National Photo Month
National Strawberry Month
National Physical Fitness and Sports Month
Transportation Month
1st Week -Teacher Appreciation Week
2nd Week – National Pet Week
Last Week – National Backyard Games Week
5/1 – May Day
5/4 – National Weather Observers' Day
5/4 – Star Wars Day
5/4 – Space Day (2018)
5/5 – Cinco De Mayo
5/8 – National Teacher Day (2018)
5/8 – National Train Day
5/12 – Kite Day
5/13 – Tulip Day
5/13 – Mother's Day (2018)
5/15 – Dinosaur Day
5/19 – Circus Day
5/19 – Peace Day
5/28 – Memorial Day Observed (2018)
Great Outdoors Month
Zoo and Aquarium Month
1st Week – National Fishing Week
2nd Week – National Clay Week
4th Week – National Camping Week
6/1 – Donut Day
6/8 – World Oceans Day
6/12 – Magic Day
6/14 – Flag Day
6/15 – Fly A Kite Day
6/17 – Father's Day (2018)
6/18 – International Picnic Day
6/21 – First Day of Summer
6/23 – National Pink Day
National Picnic Month
National Hot Dog Month
National Ice Cream Month
National Camping Month
7/1 – Canada Day
7/2 – World UFO Day
7/4 – Independence Day
7/7 – Macaroni Day
7/12 – Paper Bag Day
7/14 – Barn Day
7/14 – Bastille Day
7/18 – Cow Appreciation Day
7/20 – Moon Day
1st Week – National Clown Week
2nd Week – National Apple Week
8/1 – Sports Day
8/3 – National Watermelon Day
8/5 – Friendship Day (2018)
8/10 – S'mores Day
8/10 – Snoopy's Birthday
8/11 – Play in the Sand Day
8/17 – Archeology Day
8/19 – National Aviation Day
8/24 – Strange Music Day
8/26 – National Dog Day
8/30 – Frankenstein Day
National Chicken Month
National Honey Month
National Rice Month
National Sewing Month
3rd Week – National Farm Animals Awareness Week
3rd Week – National Flower Week
4th Week – National Dog Week
9/3 – Labor Day (2018)
9/9 – Rosh Hashana (2018)
9/9 – Teddy Bear Day
9/9 – National Grandparents Day (2018)
9/11 – Patriot Day
9/13 – National Peanut Day
9/15 – Make A Hat Day
9/16 – Collect Rocks Day
9/16 – Mayflower Day
9/18 – Mushroom Picking Day
9/18 – National Play-Doh Day
9/19 – Talk Like a Pirate Day
9/19 – Yom Kippur (2018)
9/22 – Elephant Appreciation Day
9/22 – First Day of Autumn
9/23 – Checkers Day
Breast Cancer Awareness Month
National Apple Month
National Clock Month
National Dessert Month
National Pizza Month
National Popcorn Popping Month
International Dinosaur Month
Third Week in October – Earth Science Week
10/3 – Look at the Leaves Day
10/5 – World Teacher Day
10/6 – World Card Making Day (2018)
10/8 – Columbus Day (2018)
10/9 – Thanksgiving Day in Canada (2018)
10/12 – Farmer's Day
10/17 – Fossil Day (2018)
10/20 – Sweetest Day (2018)
10/30 – National Candy Corn Day
10/31 – Halloween
Aviation Month
International Drum Month
Peanut Butter Lover's Month
11/5 – Guy Fawkes Day – Bonfire Night
11/5 – National Donut Day
11/6 – Basketball Day
11/6 – US Election Day (2018)
11/7 – Hug-a-Bear Day
11/7 – Magazine Day
11/9 – Parade Day
11/10 – Sesame Street Day
11/11- Veteran's Day
11/11 – Canada Rememberance Day
11/15 – America Recycles Day
11/16 – Button Day
11/17 – Take A Hike Day
11/22 – Thanksgiving (2018)
12/2- Advent Begins (2018)
12/2 – Hanukkah Begins (2018)
12/7 – National Cotton Candy Day
12/8 – National Brownie Day
12/12 – Poinsettia Day
12/13 – National Cocoa Day
12/20 – Games Day
12/21 – First Day of Winter
12/25 – Christmas
12/26 – Kwanzaa Begins
12/27 – Visit the Zoo Day
12/31 – New Year's Eve