International Polar Bear Day is on February 27, but any time is a great time to teach kids more about the imperiled polar bear. Did you know that polar bears are so used to cold weather that they cannot handle temperatures above 50°F? Pollution and poaching are the main reasons that polar bear populations are still decreasing. Head over to the national Wildlife Federation for 13 things you may not know about polar bears.
Here at Fun Family Crafts, we've gathered two dozen awesome crafts inspired by polar bears. You'll find crafts for kids of all ages that use a wide variety of art materials. There are even some fun (and delicious!) edible crafts.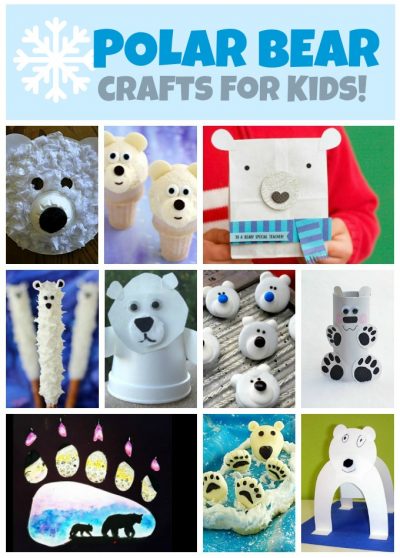 Here are 10 of our favorite polar bear crafts for kids:
1. Ice Cream Cone Polar Bears –  Who wouldn't love a delicious ice cream cone that looks like a polar bear? This treat is fun to enjoy inside during winter when it's icy and snowy outside, and equally great when you need to cool down during summer!
2. Polar Bear Gift Bag –  Turn a plain white lunch sack into a gift bag that couldn't be cuter! This easy project comes together quickly and is so much fun to give.
3. Polar Bear Cookies – These polar bear cookies are easy to make, taste great, and are absolutely adorable! They start with store-bought double cream-filled sandwich chocolate cookies. Yum!
4. Standing Polar Bear -This easy polar bear craft stands up on its own! The hand-drawn eyes and mouth and the pom pom nose and tail give it so much personality.
5. Polar Bear Paw Print Art – This stunning Arctic craft combines watercolor, ink and oil pastel to create a beautiful winter scene of a polar bear and her cub. The second layer shows a hiding seal, safe from the hungry polar bears.
6. Polar Bear Mask -Dress up and pretend with this polar bear mask. The furry texture is white tissue paper.
7. Cardboard Tube Polar Bear – Turn a cardboard tube into a super cute polar bear. This easy craft uses materials you probably already have on hand.
8. Polar Bear Back Float Cookies – This delicious sugar cookie is decorated to look like a polar bear floating in the ocean. It's a sweet treat to enjoy during winter.
9. Styrofoam Cup Polar Bear Puppet – This easy polar bear puppet craft is made with a Styrofoam cup and some construction paper. It's perfect for a study of Arctic animals or everyday winter crafting.
10. Polar Bear Pretzel Pops – These tasty polar bear pretzel pops are a fun treat for winter. A fork gives them their furry texture.