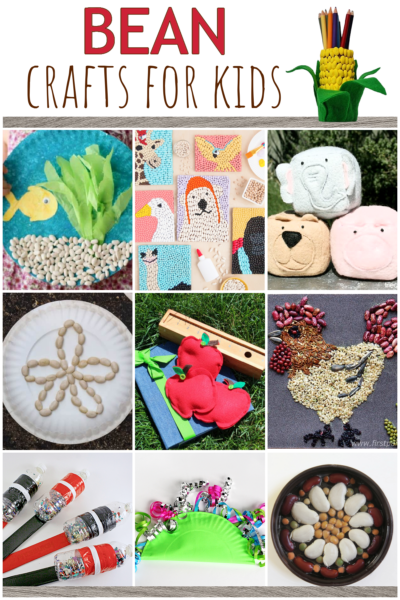 Beans aren't just for eating. Dried beans have long been a staple of kids' crafts and games – we wouldn't have bean bags without them! There's even a special day to celebrate beans on January 6. For much of the country, the beginning of January is cold and most kids will be stuck inside, which makes it a great time for crafting. We've put together a fun collection of bean crafts for you and the kids to make regardless of the time of year. Below are 10 of our favorite bean crafts.
Bean Crafts for Kids
1. Fish Bowl Craft – Create a pretty project using a paper plate and beans. This fish bowl craft is a lot of fun for preschoolers and school-age kids.
2. Paper Plate Sand Dollars – This fun beach-themed craft is inexpensive, fast and easy. It's a great project to follow a trip to the seashore or a study ocean animals.
3. Corn on the Cob Pencil Holder – Keep pens and pencils organized with this super cute desktop organizer. It looks like corn, but is made with beans.
4. Rooster Bean and Seed Mosaic – Use beans and seeds to make beautiful art. The rooster is just one example from the tutorial.
5. Paper Plate Noise Maker– This classic project is easy to make and lots of fun. After it's done, use it play along with your favorite music!
6. Team Spirit Shaker – Cheer on your team with these fun team spirit shakers! These noise makers let your favorite players know you're in the stands!
7. Bean Art Animals – Use beans to create portraits of a parrot, duck, ostrich, gorilla, and others from the movie Dolittle.
8. Mini Apple Bean Bags – There are so many fun ways to use bean bags! This tutorial has ideas for use in the classroom.
9. Bean Mosaic Coaster – Use plastic lids and beans to make coasters for your drinks. They really work!
10. Animal Bean Bags – Sew these adorable bear, elephant, and pig bean bags using the provided template.
Don't forget to check out the rest of the bean crafts!