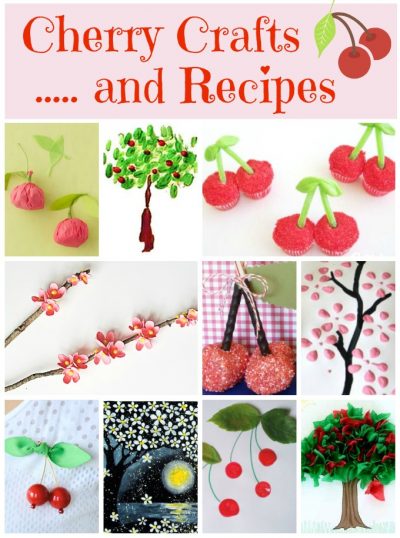 In February, we celebrate National Cherry Month. Cherries are delicious, sweet, and good for you. They are considered a superfruit because of their high level of antioxidants. Enjoy them this month (and every month) as you make some of our fabulous cherry crafts and recipes.
Cherry Crafts and Recipes
1. Soda Bottle Cherry Blossoms – Use an empty bottle and craft paint to create cherry blossom art. This project is simple enough for the youngest of crafters.
2. Cherry Marshmallow Pops – These yummy marshmallow pops look just like cherries! And because the stems are made from chocolate-covered cherry candy sticks, they taste like cherries too.
3. Tissue Paper Cherry Tree – Trace your arm to make the tree trunk, then add leaves and cherries using tissue paper and a pencil.
4. Cherry Party Favor – Give out cherry favors at birthday parties, as Valentines, or just a fun treat for National Cherry Month!
5. Cherry Cupcakes – Cherry gelatin and white cake mix come together in this treat. Red sugar sprinkles and candy stems make them look just like cherries.
6. Fingerprint Cherry Tree – Young crafters will love filling trees with bright red fingerprint cherries.
7. Cherry Brooch – Even beginning beaders will be able to make this darling cherry brooch using red beads and green ribbon. Give it a try!
8. Cherry Collage – This cute and simple cherry collage is made with painted red circles for the fruit and real leaves.
9. Egg Carton Cherry Blossom Branch – Turn an ordinary cardboard egg carton into a gorgeous cherry blossom branch.
10. Cherry Blossoms in Moonlight Painting – Follow the simple steps to create an enchanting night landscape featuring cherry blossoms shimmering in the moonlight.
Be sure to check out all of our cherry crafts and recipes for kids!