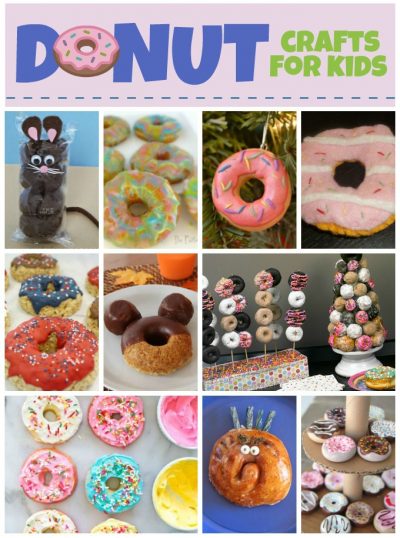 Just about everybody loves donuts! We're lucky enough to have two different National Donut Days, which take place on the first Friday of June and again on November 5. Celebrate the occasions with some donut-themed crafts and recipes that kids will love! Below are ten of our favorites.
Donut Crafts and Recipes
1. Donut Party – Host a Donut Party that your guests will love! The Donut Hole Cone and Donut Kebobs are easy, fun, and delicious.
2. Apple Fruit 'Donuts' – This tasty snack looks like a donut, but it's not! This healthy treat is made with fruit and cream cheese.
3. Rice Krispie Treat Donuts – Yes, it's still a donut even if it's made without dough! These rice krispie treat donuts are delicious and fun to decorate.
4. Clay Donut Ornament – Make this fun and easy clay donut ornament from clay. Tie it to a gift or hang it on the tree.
5. Felt Donut – Make delicious-looking donuts from felt to add to a child's toy kitchen.
6. Decorated Donuts – Use candies, dried fruit, nuts, and other edible items to give donuts tons of personality! This will really stretch your creativity.
7. Mickey's Apple Cider Donuts – Disney fans will love to make homemade cider donuts that look like Mickey Mouse.
8. Pretend Wooden Donuts – These wooden donuts look good enough to eat and are so much fun for pretend play.
9. Mouse Donuts – Turn a pack of chocolate donuts into a cute little mouse. It couldn't be easier!
10. Tie-Dye Donuts – You won't believe how easy it is to make these gorgeous donuts, inspired by the 1970's! Follow the simple directions and decorate store-bought donuts with homemade glaze.
Don't forget to check out the rest of our donut-themed crafts and recipes!