Happy New Year! Here at Fun Family Crafts, we've gathered up the best kid-friendly ideas for counting down to the new year. Below are ten of our favorites. Check out all the New Year's crafts and recipes here.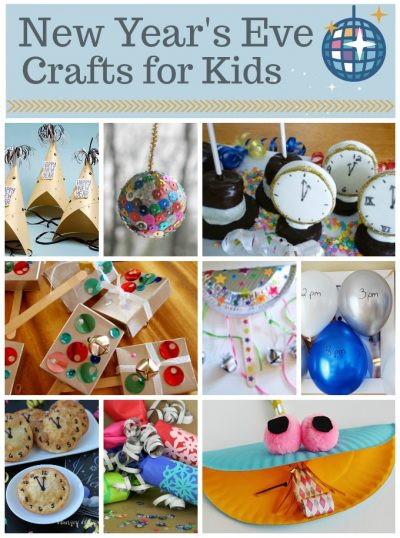 New Year's Crafts and Recipes
1. New Year's Party Hats – Celebrate the new year in style with homemade hats that look great! Follow the directions exactly, or personalize them however you'd like.
2. Edible Top Hats and Clocks – Turn marshmallows and other store-bought goodies into edible top hats and clock treats that are perfect for ringing in the near year.
3. Paper Plate Party Animal – Create a paper plate monster face using a party blower for a tongue. Let your creativity go wild!
4. New Year's Noisemakers – Craft up these cute noisemakers just in time for try them out at midnight. They're made from raisin boxes.
5. Balloon Countdown – Staying up until midnight can be hard! Make the time fly by with fun activities on the hour.
6. Kid-Friendly Party Crackers – Try this fun twist on traditional party crackers. Everyone will love discovering the hidden goodies that come out with a POP!
7. Sparkly Foam Sequin Ball – This sparkly foam sequin ball ornament is a perfect craft for New Year's Eve. It's a kid-sized version of the big one dropped every year in Times Square.
8. Sugar Cone Party Horns – The only sound these horns make is the crunching of happy partygoers enjoying a tasty treat!
9. Pie Pan Noisemaker – Ring in the New Year with a bang… and a clang and a jingle! This pie pan noisemaker is an improvement over the usual paper plate shaker.
10. Wonton Clocks – Serve these clock-themed appetizers on New Year's Eve. They're delicious and really easy.
Remember to view the rest of the New Year's crafts and recipes!