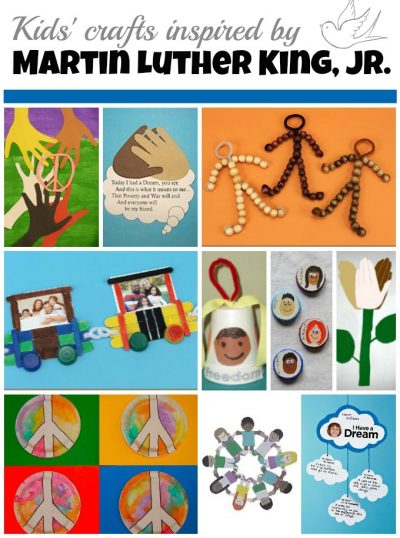 Martin Luther King Jr. Day Crafts for Kids
Dr. Martin Luther King Jr. was born in 1929 and his birthday is observed on the third Monday in January every year. We've gathered a variety of crafts that convey the hopes and ideals of this inspirational man. Here are ten of our favorites.
1. 'I Have a Dream' Mobile – This easy-to-use printable template inspired by Dr. King's 1963 speech lets kids display their own dreams for themselves and their communities.
2. Handprint Peace Craft – This beautiful collage symbolizes all of human kind striving for love and peace. It's a wonderful way to honor Dr. Martin Luther King, Jr.
3. Bead People – Create bead people of different colors and shades to express the similarities as well as differences between all people. It's a great way to teach kids about equality.
4. Peace Flowers – Celebrate Dr. King's dream for peace throughout the world with these peace flowers made from children's handprints.
5. Craft Stick Diversity Train – This Diversity Train project is ideal for a classroom, daycare or other group setting. Each train car represents each child's ethnicity and culture.
6. Plastic Lid Thumbprint Kids – Turn plastic lids into thumbprint kids representing people from around the world. This easy recycling project is great for Martin Luther King, Jr. Day.
7. Martin Luther King Handprint Poem – Promote compassion and help spread Dr. King's dream for peace and love with this handprint activity.
8. Friends Around the World – Make this Friends Around The World craft for Martin Luther King Day to encourage kids to appreciate the differences that make up the Earth's population.
9. Freedom Bell – This special project teaches kids that Dr. King wanted freedom to ring throughout the land.
10. Groovy Peace Signs – This simple peace sign craft is fun for kids of all ages. Hung together like a quilt, they represent kids of all backgrounds coming together in harmony.
Be sure to check out the rest of the Martin Luther King Jr. Day crafts today!