LEGO is a classic toy that has been a favorite for generations of boys and girls! They've expanded to video games and movies too, and there are plenty of children who choose Lego-inspired costumes for Halloween. Birthday cakes and faux building blocks all made to look like Legos are among some of the most popular Lego-themed crafts for kids. We've collected over 30 great Lego crafts and recipes.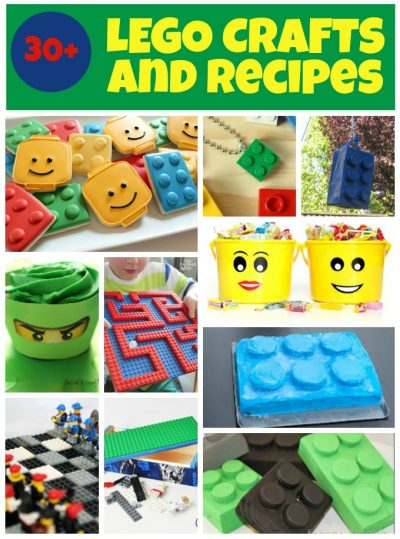 Lego Crafts for Kids
1. Lego Necklaces – What Lego fan wouldn't love a Lego necklace? These fabulous accessories are easy and inexpensive to make. Don't stop at just one!
2. Lego-Inspired Buckets – Turn plain yellow buckets into super cool minifig characters! Use them for trick-or-treating or for storing Legos and other toys.
3. Ninjago Cupcake Liners – These Ninjago cupcake liners are surprisingly easy to make using the provided printable. Make them in different colors so that everyone can choose their favorite ninja.
4. Lego Marble Run – Use Legos to create your own maze, then let the racing begin! Once you've mastered a maze, simply create a new one and keep on racing.
5. Lego Cake – You don't have to be an expert cake decorator to make a decent Lego cake. Follow the steps to make your own.
6. Lego Travel Box – Take some Legos on-the-go with this awesome travel box. It holds enough Legos to keep a child entertained at a restaurant, in a waiting room, or anywhere else.
7. Lego Chess Set – Create your own chess set using random Legos for the board and pieces. What a fun activity to do as a family!
8. Lego Pinata – Making a Lego brick pinata isn't hard, but making one that can actually be broken when you hit it is another story! Follow the easy directions to make a Lego pinata the kids will love.
9. Lego Decorations – Turn 2×4's and recycled lids into cool Lego bricks that any Lego fan would love. They make great paper weights, bookends, or party decorations.
10. Lego Cookies – These darling Lego cookies are a wonderful treat for any Lego fan. Serve them at a party, a playdate or even National Lego Day!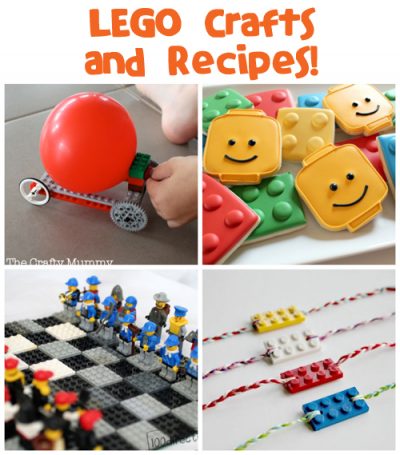 Check out all 30+ Legos crafts and recipes here.