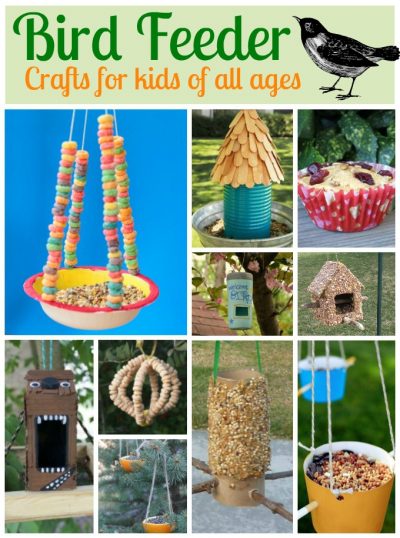 Celebrate the wonder and joy of our feathered friends during National Wild Bird Feeding Month! Unlike a lot of special days, this holiday is actually official. In 1994, Congress proclaimed February as National Bird Feeding Month to encourage people to feed, water and provide shelter for wild birds, especially during the winter months. Get your kids together and make your own homemade bird feeder crafts with these great ideas. We've listed ten of our favorites below.
Bird Feeder Crafts
1. Paper Bowl Bird Feeder – This simple bird feeder is easy to make, using materials you probably already have on hand.
2. Coffee Can Bird Feeder – Turn an empty coffee can and craft sticks into an attractive bird feeder to attract lots of feathered friends.
3. Wookie Birdhouse – Repurpose an empty milk or juice carton to make this cute Wookie Birdhouse. It's a great project for Star Wars fans!
4. Cupcakes for the Birds – These no-bake cupcakes aren't for humans… they're for birds! It's so much fun watching the birds discover and devour this healthy treat.
5. Cardboard Bird Feeder – This birdhouse-inspired bird feeder is made with cardboard, sticks and plenty of birdseed.
6. Paper Cup Bird Feeder – Turn an empty paper cup into a feeder for all sorts of birds. It couldn't be easier!
7. Cardboard Tube Bird Feeder – Don't throw away that empty cardboard tube! You can use it to make your own bird feeder for the yard.
8. Orange Bird Feeder – This bird feeder craft, made with an orange, is so easy and the birds will go absolutely crazy for it!
9. Wipes Container Bird Feeder – Transform an empty wipes container into a bird feeder to put in your yard.
10. Cheerios Bird Feeders – Use Cheerios to make simple bird feeders. The tutorial shows how to make spheres, hearts, letters, and chains.
We've gathered a lot more ideas, so be sure to check out all the tutorials for bird feeder crafts!