National Puzzle Day is on January 29th, so we'd like to help you celebrate by sharing all of the fun puzzle crafts we've been collecting! Whether it's a craft using puzzle pieces to make something else, or a project that creates a puzzle, they are all fun and worth a look. There are puzzle-themed projects for kids of all ages and skill levels.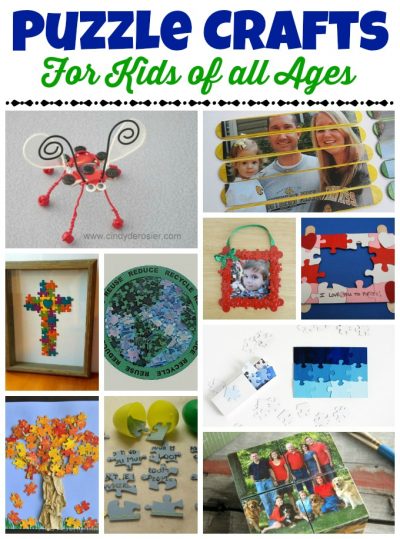 Puzzle Crafts for Kids
Here are 10 of our favorite puzzle crafts. You can see all 30+ here.
1. Photo Puzzle Blocks– Make a personalized puzzle using six different family photos! All you have to do is scale, cut, and decoupage the photos onto wooden blocks.
2. Puzzle Piece Critters– Don't throw out the whole puzzle if you're missing a few pieces! Turn the puzzle pieces into a fun ladybug, crab, spider or anything else you can dream up.
3. Puzzle Piece Tree – Turn a brown sack and extra puzzle pieces into a beautiful fall tree. This is a wonderful way to celebrate the changing of the seasons and easily adapted for any time of year.
4. Recycled Puzzle Piece Earth – This conservation-minded craft is perfect for Earth Day or any day. It's easy to do and uses puzzle pieces that would otherwise be thrown away.
5. Popsicle Stick Puzzle – This personalized craft keeps little ones occupied during travel or while waiting. They're excellent to keep in a purse or diaper bag to help the time pass more quickly.
6. Puzzle Piece Cross – Create a beautiful cross using painted puzzle pieces! This is a wonderful decoration for Easter time or year-round.
7. Travel Puzzle -This travel puzzle is simple to make and convenient to take on-the-go. It makes the perfect activity and game when kids have to wait more than a few minutes.
8. Puzzle Piece Ornament Frame – Use craft sticks and puzzle pieces to make a frame for a favorite picture. Then hang up the ornament where you can enjoy it!
9. Easter Egg Puzzle Game -Kids will have to work together to find a hidden treasure with this fun puzzle game. It's great for Easter, but is easily adapted for any other occasion.
10. 'I Love You to Pieces' Frame – This simple frame is a wonderful gift to make for Valentine's Day, Mother's Day, Father's Day, birthdays and more. It's inexpensive and lots of fun.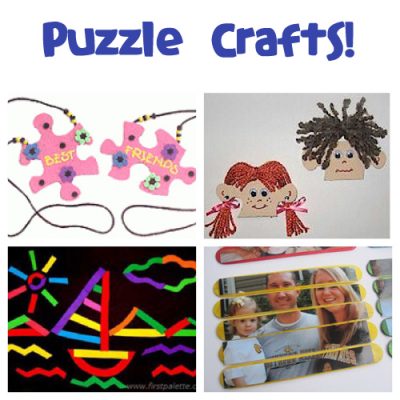 Check out all 30+ puzzle crafts we have to share!