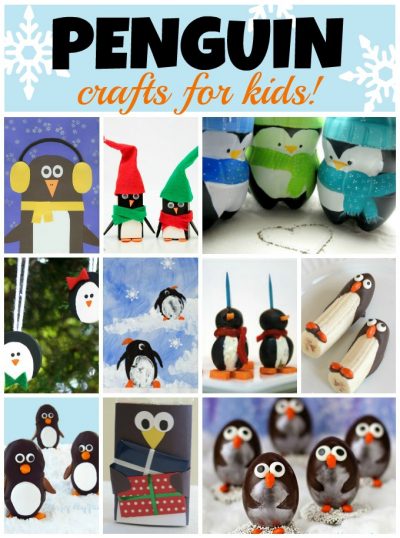 Did you know that January 20th is Penguin Awareness Day? Check with your local zoos and aquariums to see if they are hosting any special events to celebrate this day. Of course, penguin-themed crafts are lots of fun (and a great teaching tool!) all throughout winter. Be sure and check out all the penguin crafts and recipes we have to offer!
Penguin Crafts for Kids
1. Plastic Bottle Penguins – Turn empty 2-liter bottles into the cutest penguins you've ever seen! Recycling has never looked so good.
2. Microwave Popcorn Penguin Gift Card Holder – This adorable penguin is made from microwave popcorn and holds a wrapped gift card. It's great for winter holidays and birthdays or any cold weather celebrations.
3. Penguin Pals Ornament – Create little penguin ornaments from wood circles, paint and yarn, then hang them in windows, dangle them from your backpack, or use them as gift toppers.
4. Sledding Penguins Frozen Banana Snack – These sledding penguins are such a fun snack for winter! They're easy to make, tasty and so cute.
5. Earmuff Penguin – Decorate for winter with a construction paper penguin wearing earmuffs and a scarf. This is a great project for the classroom, because each penguin is unique.
6. Penguin Printmaking – Make a pretty winter scene featuring potato print penguins! Even the youngest of crafts will enjoy it.
7. Penguin Truffles – Chocolate truffles that look just like penguins? What a wonderful recipe to try this winter!
8. Lego Penguin Ornament – Turn a stack of black Legos into a fun penguin ornament. Let your creativity shine!
9. Cream Cheese Penguin Snacks – These cream cheese penguins are as cute as can be and are a fun and healthy choice for after-school snacking.
10. Nutter Butter Penguins – Make tasty treats that look like penguins using dipped Nutter Butter cookies and a variety of candies.
Don't forget to see all 50+ penguin crafts and recipes we have at Fun Family Crafts!