November is Peanut Butter Lover's Month, marking the anniversary of the first patent issued for peanut butter in 1895. March 1st is Peanut Butter Lover's Day and September 13th is National Peanut Day. So there's a lot to celebrate! Americans will do so by eating over 65 million pounds of peanut butter during November! While peanut butter is great in sandwiches, as a dip, or in a spoon, this month we encourage you to branch out and try one of our 30+ edible peanut butter crafts that feature peanut butter. You can't go wrong with these kid-friendly foods (that are just as tasty for adults)!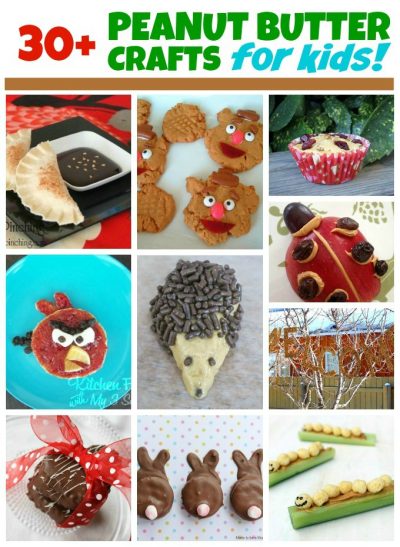 Edible Peanut Butter Crafts for Kids
Here are 10 of our favorite kids' crafts using peanut butter. Be sure to see all the peanut butter crafts here!
1. Hedgehog Candy – This darling hedgehog candy is simple to make and only has four ingredients. Best of all, it tastes great!
2. Fozzie Bear Cookies – Muppets fans will adore these delicious cookies that look like the lovable Fozzie Bear. They're a lot of fun for a themed party or other celebration.
3. Ladybug Apple and Raisin Snack – This cute snack is completely guilt-free. Made with just an apple, grape, peanut butter and raisins, this treat is as nutritious as it is delicious.
4. Peanut Butter Potstickers – Can you believe that potsticker is actually a peanut butter sandwich with a chocolate dipping sauce?! It is surprisingly easy to make using one inexpensive tool.
5. Caterpillars on a Log – You've probably heard of ants on a log, but have you ever made caterpillars on a log? This healthy snack is simple to make and fun to eat.
6. Angry Birds Lunch – Lunchtime is so much more fun with this awesome Angry Birds peanut butter sandwich! It's easy enough for kids to do and tastes great.
7. Chocolate-Covered Peanut Butter Hearts – Peanut butter lovers will go crazy for these delicious heart candies. Make a whole tray and share them with everyone you love.
8. Peanut Butter Ritz Cracker Bunny Treats – Turn Ritz crackers, peanut butter and chocolate into adorable bunny-shaped treats. Simply spread, dip, decorate, and enjoy!
9. Peanut Butter Welcome – Humans aren't the only ones who love peanut butter! Make a healthy welcome sign with peanut butter and birdseed for the birds in your area to enjoy.
10. Cupcakes for the Birds – Here's another treat to share with your feathered friends. This no-bake 'cupcake' is full of foods that help birds get through winter.
You can find all of the delicious peanut butter crafts here.