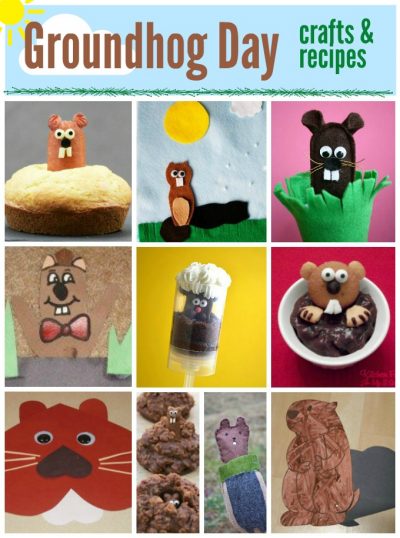 Groundhog Day is celebrated every year on February 2nd. If the day is cloudy when Punxsutawney Phil comes out to see his shadow, it's said we'll have an early spring. However, if it's sunny and the groundhog sees his shadow, winter will remain for six more weeks. It's a fun day to celebrate the coming of spring and more and more crafts and recipes are "popping up" each year to share in the fun. Check out all of the Groundhog Day crafts and recipes we have to share with you! Below are ten of our favorites.
Groundhog Day Crafts and Recipes
1. Groundhog Hot Dogs – Turn hot dogs into the perfect meal for Groundhog Day. They are easy to make and couldn't be cuter!
2. Groundhog Day Felt Playset – Use this fun felt playset to teach kids about the tradition of Groundhog Day. Add other characters so kids can make up their own stories about the changing seasons!
3. Groundhog Day Cupcake Push Pop – This clever groundhog dessert is adorable. Kids will love pushing the groundhog up out of his hole.
4. Groundhog Shadow Craft – You'll never guess what household item stands in for a paintbrush when making this cute groundhog shadow craft!
5. Groundhog Felt Puppet – This felt groundhog puppet can pop up and then hide back down in his hole. So much fun!
6. I Heart Groundhog Day – Groundhog Day is full of love when you craft a this little groundhog from paper hearts. It's a fun project for preschoolers.
7. Groundhog Day Desserts – This tutorial includes instructions for two different Groundhog Day desserts. Why decide? Have both!
8. Peek-a-Boo Handprint Groundhog – Turn your handprint into a groundhog, then help him peek out of his hole. Will he see his shadow?
9. Groundhog Puppet – Use felt and an old pair of tights to make a little groundhog puppet that pops up and then hides.
10. Pop-Up Groundhog Cookies – Moveable cookies?! These treats are so cute and so much fun!
Don't forget to view the rest of the Groundhog Day crafts and recipes we have at Fun Family Crafts!