Halloween means a specific fate for a pumpkin – getting carved into a jack-o'-lantern! Whether you're looking for Jack-o'-Lantern crafts, recipes and carving templates, we plenty to choose from! Below are ten of our favorites.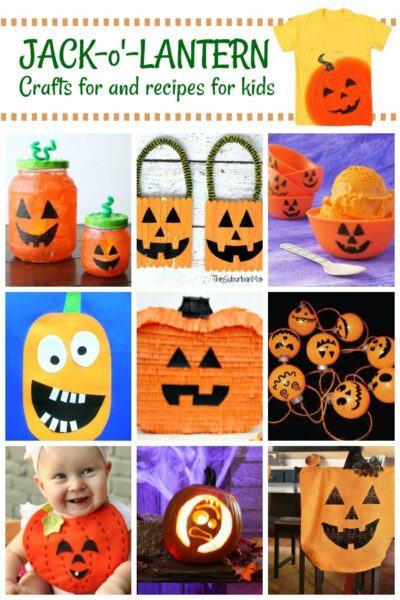 Jack-O'-Lantern Crafts for Kids
1. Chocolate Jack-O-Lantern Bowls – Make these tasty bowl for Halloween using a plastic bowl as a mold. Fill them with candy or follow the recipe to make delicious no-churn orange ice cream.
2. Happy Jack T-Shirt – This festive Halloween shirt looks professionally made, but it's surprisingly easy to do without any special equipment or skills. Give it a try!
3. Pop Culture Carving Patterns – Sport the trendiest Jack on the block with these pop culture carving patterns! There are tons to choose from.
4. Jack-o'-Lantern Pinata – Add extra fun (and even more candy!) to your Halloween celebration with this jack-o'-lantern pinata. Kids will love it.
5. Pumpkin Baby Bib – One toothless grin meets another with this simple jack-o'-lantern baby bib, perfect for baby's first Halloween.
6. Craft Stick Jack o'Lantern Door Hangers – This classic craft is just as fun now as when you were a kid. Experiment with lots of different faces!
7. Toothy Pumpkin – These construction paper jack-o-lanterns are all about the teeth! You can't help but smile when you see them.
8. Jack-o-Lantern Halloween Garland – The whole family can work together to make this darling Halloween garland featuring pumpkin ornaments with jack-o'-lantern faces.
9. Halloween Pillowcase Chair Covers – These easy-to-make chair covers give maximum impact and are a great way to decorate for a Halloween party.
10. Jack o Lantern Luminaries – Turn empty glass jars into festive jack-o-lantern luminaries to welcome trick-or-treaters.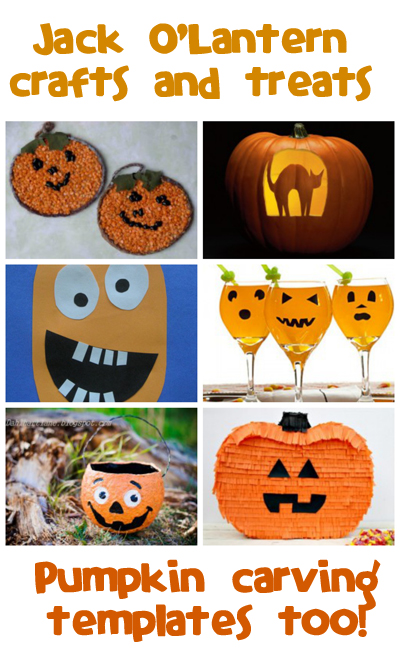 We have lots more Halloween crafts, recipes, and printables besides jack-o'-lanterns! You can also find tons of great Halloween costume ideas, too. Check them out!