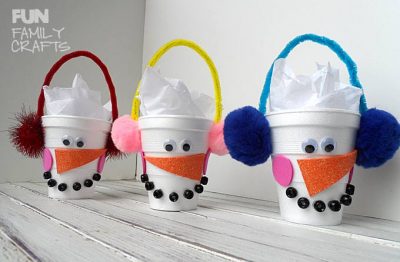 Snowman Treat Cups
Fill these cute little snowmen with edible treats or party favors. You can even use them to wrap gifts!
What you need:
3 white foam cups
Orange and pink craft foam
18-21 black pony beads
6 googly eyes
6 pipe cleaners
6 jumbo pom poms
Instant grab glue
How to Make It:
1. Cut long triangles from orange craft foam for noses and glue to the front of the cups.
2. Cut circles for cheeks from the pink craft foam and glue to the cups.
3. Glue black pony beads on for the mouths.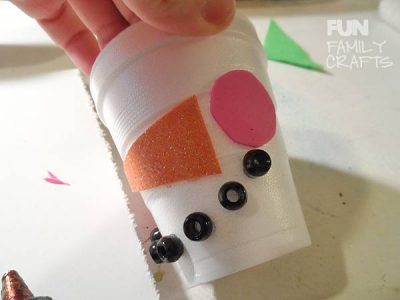 4. Glue goggly eyes on the cups.
5. Twist together two pipe cleaners and poke ends into the sides of the cup for a handle. Glue jumbo pom poms on as ear muffs.
6. Line with tissue paper and fill with treats!
This project was created by Amanda Formaro.