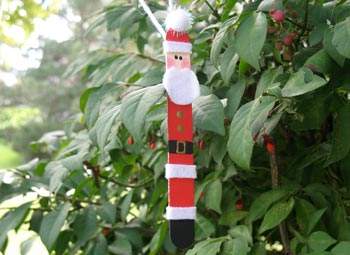 Craft Stick Santa Claus
This cute craft stick Santa is an easy ornament made with very few supplies. Put him together in an afternoon.
What you'll need
Jumbo craft stick
Acrylic paint: peach, red, black, pink, and gold
½ sheet white felt
Scissors
Felt glue
Black marker
Toothpick
White pom pom
8″ piece of yarn
How to make it
1. Paint a 1″ peach section at the top of the craft stick for the face. Paint the rest of the craft stick red. Paint the top of the craft stick red for the hat. Use a scruffy paintbrush to dab on some pink paint for cheeks. Paint a black strip across the center of the craft stick for the belt. Paint the bottom 1″ of the craft stick black.
2. After all paint has dried, use a toothpick dipped in gold paint to add a belt buckle. Dip the handle end of a paintbrush into the gold paint and dot on two buttons above the belt.
3. Cut three strips from white felt. Glue strips directly above the black boots, below the red hat, and about ½" below the black belt.
4. Cut a beard from the white felt and glue it to the face. Dot on two eyes with black marker. Glue pom-pom to the top of the hat. Glue yarn to the back in a loop for the hanger.
This project was created by Amanda Formaro, originally for Kaboose/Spoonful.