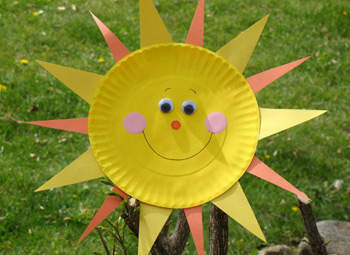 Paper Plate Sun
Sunshine just screams summer! Kids can bring some sunny rays into the house, day or night, by making this easy craft.
What you'll need
Paper plate
Yellow, orange and pink craft paint
Paintbrush
1 sheet yellow construction paper
1 sheet orange construction paper
Pencil
Scissors
Glue stick
2 large googly eyes
Black marker
1 small round sponge applicator
1 large round sponge applicator
White craft glue
How to make it
Paint the paper plate yellow and let dry.
Cut seven large triangles from the yellow paper.
Cut seven skinnier triangles from the orange paper.
Use glue stick to add the triangles to the back of the painted paper plate. Keep the ends of the triangles about ½" from the rimmed line of the plate.
Turn the plate over and glue on the googly eyes. Draw on a mouth and eyebrows. Dip the small round applicator into orange paint and dot on a nose. Use the large round applicator dipped in pink paint for the cheeks.
This project was created by Amanda Formaro, originally for Kaboose/Spoonful.