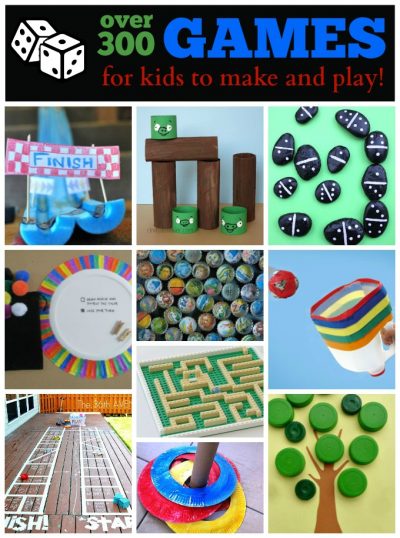 While no one needs a special day to play games, December 20th has been dubbed National Games Day. The last week in May is National Backyard Games Week. Regardless of the time of year, kids love games! We've collected hundreds of tutorials for games that you can make with your kids, then play, play, play! Below are ten of our favorites.
Homemade Games Ideas for Kids
1. Pool Noodle Marble Race Track – Race marbles through tracks made from pool noodles. It's great fun for kids of all ages!
2. Milk Jug Ball Catcher – Turn empty milk jugs into fun ball catchers that you can use indoors or out.
3. Travel-Friendly Paper Plate Game – This fun game is designed to be portable enough to play in the car or on a plane. No reading required!
4. Rock Dominoes – Head outside to collect rocks, then use them to make your own set of dominoes. So fun!
5. Bottle Cap Apple Search – This game is easy to make, using recyclable materials that you already have at home. The simple rules make it great for even young crafters.
6. Board Game Deck – Transform your deck, patio, or sidewalk into a giant board game! There are so many possibilities.
7. Cardboard Tube Angry Birds Game – Get the kids off electronic devices with this fun, safe, kid-friendly version of Angry Birds that you can play indoors or out. It's fun for kids (and adults!) of all ages.
8. Paper Plate Ring Toss – Turn paper plates and cardboard tubes into a fun family ring toss game. Play it indoors or outside.
9. Bottle Cap Matching Game – Make your own memory game, using recycled bottle caps. Choose any theme that inspires you!
10. LEGO Marble Run – Challenge the kids to build a marble run using LEGO bricks. Then have races and see who can solve it the fastest.
Don't forget to view the rest of the hundreds of DIY games that you can make with your kids!