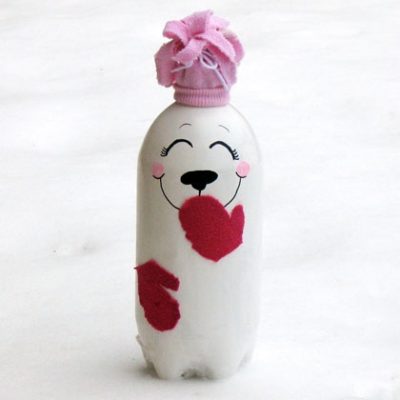 Turn an empty two-liter soda bottle into this cute giggling polar bear! Choose your favorite colors for the hair and mittens. A fun winter project!
SODA BOTTLE POLAR BEAR
What you need:
Gesso (recommended: Liquitex Basics Gesso)
White and black acrylic craft paint
Paint brush
2 liter plastic bottle
2 mismatched socks
Black marker
Pink crayon
Scissors
12″ white yarn
White craft glue
Rice, pebbles, pennies, sand, etc (for weight)
Pattern
Helpful Tip:
Don't toss out your mismatched socks! Save them for fun winter projects such as this. 2. Instead of a two liter bottle, you can make this smaller with a water bottle. We used a 3 liter bottle for ours! 3. Gesso is a craft medium that allows paint to adhere to many surfaces. It is available in the art department of your local craft supply store.
How to make it:
Remove all labels from bottle and rinse out well. Allow to dry, add some weights (pennies, sand, rice, etc.) and place cap back on bottle.
Paint bottle with one coat of gesso and let dry. Paint with one coat of white paint and let dry.
Cut one of the socks on half. You will be using the end with the cuff.
Use scissors to fringe the cut end of the sock.
Use pattern to draw face on the front of the bottle using a black marker.
Fill in the nose with black paint. Use a pink crayon to color circles for cheeks.
Using the pattern, cut out two mittens from the other sock. Glue one mitten so that it is partially covering the bear's mouth. Glue the other one lower and pointing toward her belly.
Place the cuff end of the first pink sock over the top of the bottle cap. Use yarn to tie a knot around the sock in between the cuff and the fringe. Tie yarn into a bow trim off excess ends, leaving a couple of inches in place. Arrange the fringe so that it flops on top of the hat.