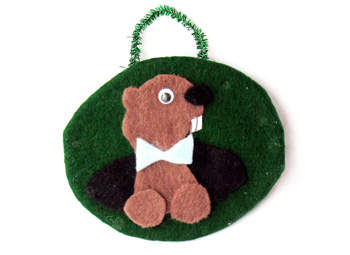 Punxsutawney Phil Portrait
Will Punxsutawney Phil see his shadow or not? Are we in for in for 6 more weeks of winter? We've crafted this cute portrait of Phil from felt to hang on the wall for Groundhog Day to celebrate this fun tradition.
What You Need:
Felt – green, brown, white, black
Chipboard
Green pipe cleaner
Googly eye
Scissors
Hot glue or felt glue
How You Make It:
Cut an oval from green felt, approximately 5″ across. Cut a piece of chipboard that is the same size and shape.
Cut a smaller oval from black felt for to make the hole. Glue it toward the bottom of the green felt.
Use the light brown felt to cut out Phil's head and neck. The piece should be about the same shape as your thumb, but slightly larger. Add a small bump for Phil's ear. Glue it in place.
Cut two light brown circles for Phil's paws. Glue them to the bottom edge of the hole.
Use the scraps from the black felt to make an oval nose for Phil. Glue it and the googly eye to his face.
Use the white felt to make a bow tie and two long teeth. Glue them in place.
Bend the pipe cleaner to form a hanger. Use a strong glue to sandwich it between Phil's portrait and the matching piece of chipboard.
This project was created by Amanda Formaro, originally for Kaboose/Spoonful.