Pumpkins are practically synonymous with fall. As the temperatures cool and the leaves change, pumpkins become an major part of our crafting and decorating, and pumpkins (or pumpkin spice!) appear on just about every menu in one way or another. To help you celebrate, we've collected all of our pumpkin crafts and recipes in one place. Ten of our favorites are listed below. (Go here if you would like to see just the Jack o'Lantern ideas.)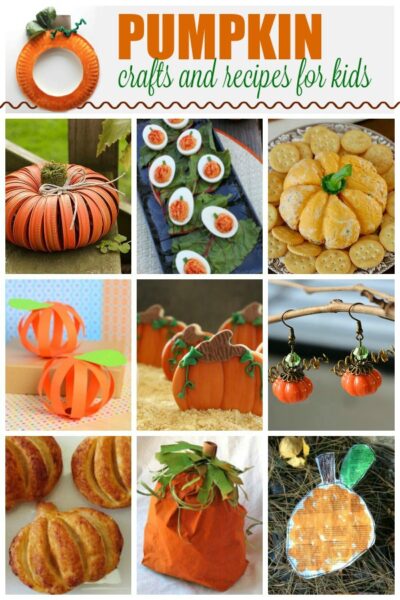 Pumpkin Crafts and Recipes
1. Pumpkin Paper Plate Mask – This simple paper plate craft looks good hanging on a wall, but it also functions as a mask for Halloween or pretend play. What fun!
2. Pumpkin Deviled Eggs – These clever appetizers are as tasty as they are cute! Make them for your next fall get-together.
3. Pumpkin Earrings – If you have a little bit of jewelry making experience, these pumpkin earrings will come together quickly. Make some for yourself and more to give to friends.
4. Puff Pastry Pumpkins – Not only do they look like pumpkins, but these puff pastry treats have a sweet pumpkin glaze on top. Yum!
5. Paper Pumpkin – This pumpkin craft is easy enough for young crafters to make. Older kids will enjoy it, too.
6. Pumpkin Patch Cookies – These pumpkin patch cookies really stand up. When you see how to do it, you'll wonder why you didn't think of it first!
7. Newspaper Pumpkins – Use newspaper to make these charming pumpkins. They look great on their own, but even better when combined to make a banner.
8. Paper Bag Pumpkin – You can use this paper bag pumpkin as a decoration, or fill it with goodies to make a fun party treat bag.
9. Mason Jar Lid Pumpkin – Turn canning jar bands into a festive pumpkin. This tutorial has lots of ideas for unique ways to decorate your project.
10. Pumpkin Cheese Ball – It doesn't taste like pumpkin, but it's absolutely delicious! Serve it during any fall gathering.
Don't forget to check out the rest of the pumpkin crafts and recipes. All of our Halloween crafts, recipes, printables and costumes are waiting for you too!