Ah, glorious fall! The colors of autumn are so gorgeous, aren't they? Beautiful leaves, the harvest of summer's bounty, scarecrows, pumpkins and the smell of a bonfire. There's nothing quite like fall. We have over 600 fall crafts, recipes, activities and printables, Below are ten of our favorites.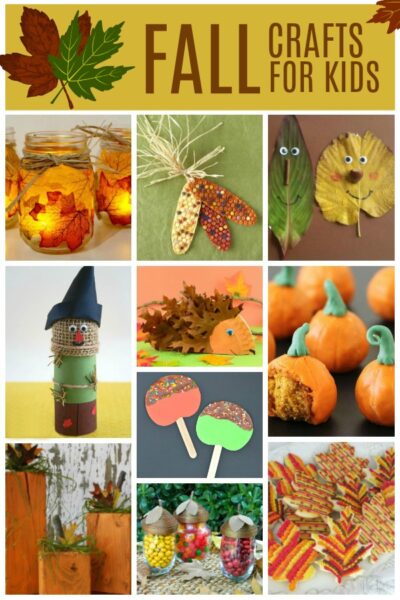 Fall Crafts and Recipes for Kids
1. Pumpkin Donut Holes – These delicious little treats look and taste like pumpkins. Each is covered in an amazing pumpkin spice glaze.
2. Faces from Fall Leaves – Go on a nature hike to collect fall leaves, acorns, sticks, and other treasures, then turn them into cute leaf faces with tons of personality.
3. Autumn Leaf Candle Holders – Create gorgeous mason jar candle holders that positively scream fall. It's easy to do.
4. Acorn Candy Dishes – Can you believe these cute acorn dish toppers are made from cardboard? They make wonderful decorations (or gifts!) for fall.
5. Paper Plate Hedgehog – This adorable critter starts with a paper plate and a fun nature walk to collect fallen leaves.
6. Cardboard Tube Scarecrow – Make a festive scarecrow using a cardboard tube, scraps of paper, and burlap. So cute!
7. Bubble Wrap Indian Corn – Bubble wrap is perfect for making these dimensional, colorful ears of corn. It's fun for all ages!
8. Fall Leaf Cookies – These beautiful cookies look difficult to make, but they're actually made using only one size of decorating tip.
9. Puffy Paint Caramel Apples – Few things say fall like caramel apples. Pair this fun craft with the real thing and make wonderful fall memories together.
10. Wooden Pumpkins – Scrap wood becomes a beautiful fall decoration. It's so easy and inexpensive, too.
Don't forget to look at the rest of our 600+ fall crafts, recipes, activities and printables, We have a special section for scarecrow crafts and recipes and a section for pumpkin crafts and recipes too!