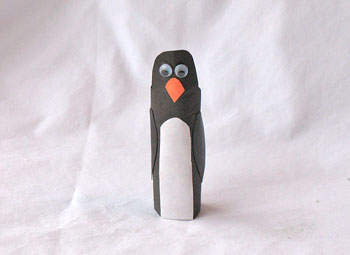 Penguin Finger Puppet
Make a bunch of these penguins and you can have a puppet show with your friends! When you are done, set them on the shelf for another day.
What you need:
Construction Paper – black, white, orange
Scissors
Glue stick
Googly eyes
How to make it:
Print the pattern and cut it out. Trace the pattern on black construction paper and cut. Set aside the scraps.
Use white construction paper make the penguin's belly. Cut a beak from orange construction paper. Glue both in place.
Add googly eyes.
Roll the black construction paper into a tube and glue it. You will need to hold it for a few minutes while it dries, or you can use binder clips to hold it in place.
Use the black construction paper scraps to cut two oval wings. Glue them on the sides of the penguin.
This project was created by Amanda Formaro, originally for Kaboose/Spoonful.