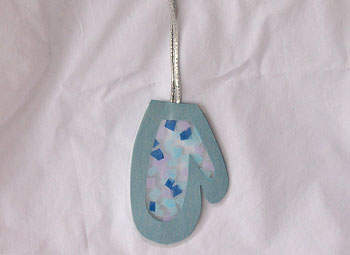 Mitten Sun Catcher
The wintery colors of blue and white are captured in this fun and colorful project. Hang this catcher in your kitchen or bedroom window for a lovely window decoration all winter long.
What you'll need:
Clear adhesive paper (recommended: Con-Tact paper)
Light blue construction paper
Tissue paper: light blue, blue and lavender
Scissors
Silver ribbon
White craft glue
How to make it:
Draw a simple pattern for a mitten.
Cut out two mittens from light blue construction paper. Cut the centers of both mittens out as well, and be sure there is a border that remains all the way around the mitten.
Cut tissue paper into small squares, similar to confetti.
Cut a piece of clear adhesive paper that is slightly larger than the two mittens side by side. Carefully peel off the back from half of the clear adhesive paper. Place one of the mittens onto the clear adhesive paper, lining up the edge of the mitten near the edge of the clear adhesive paper.
Place small squares of tissue paper onto the clear adhesive paper in the center of the mitten. Mix up the colors so that you do not have one color all in one place.
Add a small dab of glue to the top and bottom of the mitten that is on the clear adhesive paper.
Cut a piece of silver ribbon for the hanger and fold in half. Place the two open ends of the ribbon at the top of the mitten in the dab of glue.
Take the other mitten half and carefully line it up with the mitten on the clear adhesive paper. Gently press down onto the glue.
Peel back the rest of the clear adhesive paper backing and fold it over the top of the mitten creation to seal both sides. Press down and smooth out. Use scissors to trim around the outside of the mitten.
Helpful Tip:
Tissue paper is best for this project as you can see through it when held up to the window. But you can experiment with other things, such as leftover confetti from a party. Try different colors and make a bunch to decorate your windows! Save tissue paper from birthday parties for projects such as these.
This project was created by Amanda Formaro, originally for Kaboose/Spoonful.