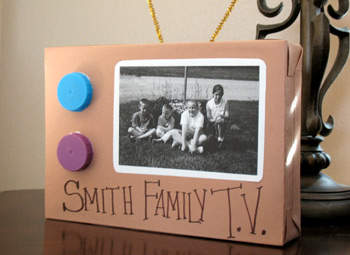 Our Family TV
Make a vintage TV frame to hold a special family photograph. It makes a great gift for Mother's Day or Father's Day.
What You Need
1 empty cereal box
tape
glue stick
3 sheets tan or brown construction paper
photocopy of a 4×6 photo
2 plastic lids from milk or juice containers
white craft glue
pen
1 gold chenille stem
scissors
brown marker
zipper sandwich bag filled with rice, beans, or sand
How To Make It
Place the sandwich bag filled with rice, beans, or sand inside the empty cereal box. Tape the top of the box closed.
Use glue stick to completely cover the box with the brown or tan construction paper. Lay the box down on the work surface.
Trim around the edge of your photocopied photo, leaving a small white border, and round the corners with your scissors. Use the glue stick to attach the picture to the upper right section of the box.
Use white craft glue to attach the two drink lids to the left of the photo for the TV knobs.
This project was created by Amanda Formaro, originally for Kaboose/Spoonful.