April is National Garden Month. What a great excuse to get outside and get your hands dirty! Still too cold or wet to do anything where you are? Then stay inside and make some garden crafts with the kids to get prepared for warmer weather. Below are ten of our favorites. Be sure to check out our collection to see all 200+ ideas!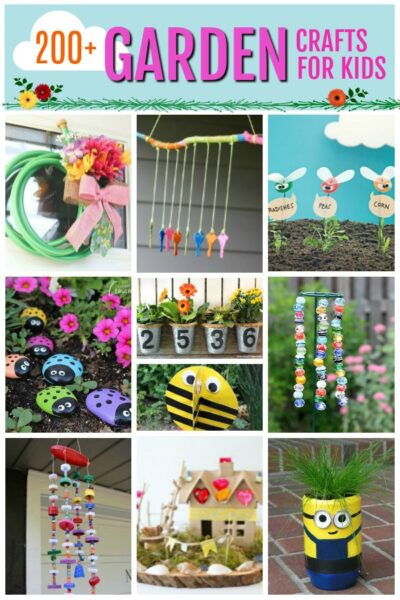 Garden Crafts for Kids
1. Bug Garden Markers – These bright-eyed little bugs are such a fun way to mark veggies in the garden. Get the whole family involved in making them.
2. Garden Hose Wreath – Upcycle a garden hose with a leak or kink by turning it into a lovely wreath that looks beautiful in the garden.
3. Decorative Garden Stakes – Add a little pizzazz to the yard with these gorgeous garden stakes. They're easy to make and customize with your favorite colors and styles.
4. House Number Planter – Plant flowers and greenery in stenciled tin buckets to display your house number in the most beautiful and unique way possible.
5. Ladybug Painted Rocks – Painted rocks make the cutest ladybugs you've ever seen! The tutorial has instructions for weatherproofing your ladybugs so they'll look great for years to come.
7. Magical Fairy House – Make a magical fairy house for the yard. The tutorial has lots of simple ideas for making your own furniture, decorations, and peg doll fairies.
8. Duct Tape Twirling Bee – Learn how to make duct tape 'fabric' and turn it into a whimsical twirling bee for the garden.
9. Minion Planter – This cute Minion Planter starts with an empty peanut butter jar. Kids will love watching his hair grow and giving it a trim!
10. Key Wind Chime – Create a nifty wind chime using driftwood, a handful of old keys, string, and paint.
Don't forget to check out the rest of the garden crafts for fun ideas for the whole family to do in the garden.