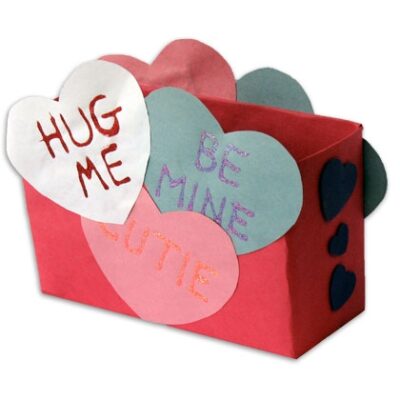 Conversation Heart Mailbox
Make your own conversation heart mailbox, perfect for collecting Valentine's Day cards and gifts. It's easy to personalize and a lot of fun to make!
What you'll need:
Cereal box

Construction paper: red, blue, white and pink

Glitter glue: blue, pink, purple, orange, red

White craft glue

Scissors

Heart-shaped cookie cutter (optional)

Heart-shaped craft foam
How to make it
Cut a cereal box in half, keeping the bottom half. Reserve the remaining cardboard for another project.

Cover the entire box with red construction paper using white craft glue.

Trace cookie cutters, or draw freehand, to create hearts from blue, white and pink construction paper. You will need two of each color for a total of six.

Use glitter glue to write short phrases or acronyms on the hearts. Some examples might include "kiss me," "BFF," "luv you," "hug me," "be mine," and "cutie."

Allow the glitter glue to dry completely. This can take several hours.

Glue three hearts (one of each color) to one side of the box. The hearts should overlap and will stick out above the top of the box. Repeat on the other side.

Glue foam hearts to the sides of the box.
This project was created by Amanda Formaro, originally for Kaboose/Spoonful.