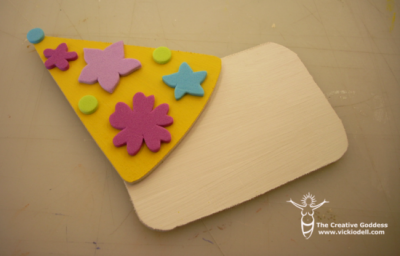 Clown Name Tag
This fun tutorial teaches you how to make a clown name tag and how to discover what your clown name is!
Supplies:
3" wood rectangle sign
Wooden cone shape
Foam Stickers
Paint: Yellow, White
Sharpie Paint Pen
Paint the wooden rectangle white and the wood cone shape yellow. When the paint is dry, glue the hat to top left corner of the rectangle at a jaunty angle. Add flower stickers, or whatever you like, to the hat. You could even color it with markers.
Write your clown name on wood rectangle with a sharpie paint pen or sharpie marker and then attach the bar pin or magnets. I decided to use magnets with my kiddos so that they wouldn't poke themselves with the pins.
How to find your clown name:
Take the first syllable of your middle name and add a vowel to the end… or a couple of vowels if needed to make it make sense.
My middle name: Lynn
My Clown Name: Lynnie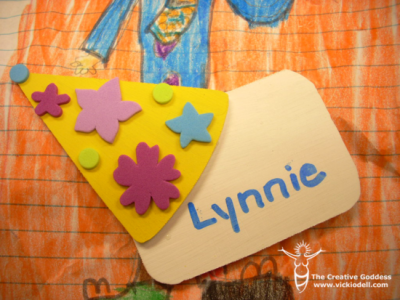 About the crafter
Vicki O'Dell "The Creative Goddess" is a professional designer, presenter, teacher, social media marketer, and writer specializing in the craft and creative lifestyle industries. Vicki has created for craft industry catalogs, trade shows, retail advertising, store displays, trade websites, art and craft fairs and blogs. Her interior design work has been on television for DIY, HGTV, and Public Television. She has also done behind the scenes video work for Office Max, The Ohio Lottery and others.