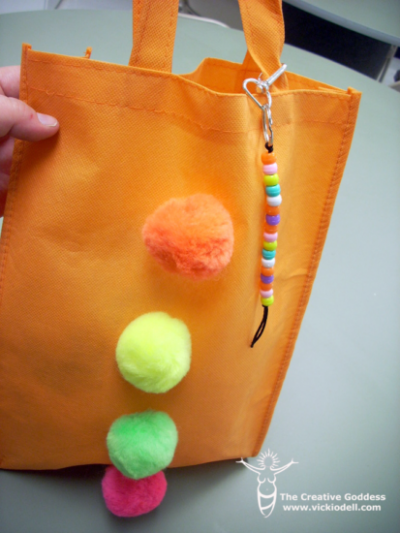 Clown-Inspired Tote with Beaded Identifier
Backpack identifiers are great. Each child can make his or her own combination of beads, which makes it easy to pick out their backpack from a pile without writing a name on the outside.
Supplies:
Tote Bag – 13 ¾" Non Woven Nylon Tote Bag
Pom Poms – bright colors
Pony Beads- bright colors
Nylon Cord
Key Chain
FabriTac Glue
For the tote identifiers:
Cut nylon cord to 6-8" and fold in half.
Slip the folded end through the circle of the key chain and pull ends through the loop to secure.
Holding both ends of the cord together, string pony beads onto the cords. Leave at least 1″ of empty cord.
Tie a knot in the end.
For the tote:
Glue 3 or 4 pom poms onto the center of the tote bag to mimic a clown suit.
Glue smaller pom poms at the top if desired.
About the crafter
Vicki O'Dell "The Creative Goddess" is a professional designer, presenter, teacher, social media marketer, and writer specializing in the craft and creative lifestyle industries. Vicki has created for craft industry catalogs, trade shows, retail advertising, store displays, trade websites, art and craft fairs and blogs. Her interior design work has been on television for DIY, HGTV, and Public Television. She has also done behind the scenes video work for Office Max, The Ohio Lottery and others.