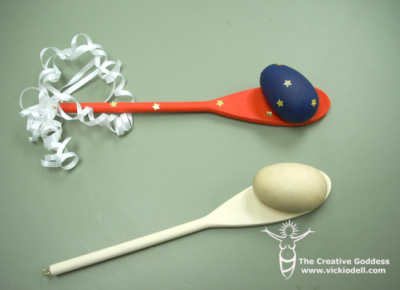 Egg and Spoon Game
This is a mess-free version of an old classic. It's lots of fun for parties, picnics and other get-togethers.
Supplies:
Americana Paint – True Red and Navy Blue – or colors of your choice
Gold Star Stickers – Mrs Grossman's Sparkle Gold Micro Stars
Wood Spoon
2 ½ inch wooden egg
White Curling Ribbon
Steps:
Paint the spoon and the egg. Let dry. Repeat coats of paint as needed. Let dry thoroughly.
Add gold stars to both the spoon and the egg. Add curling ribbon to the small hook at the end of the spoon.
Let children walk across the room or the lawn balancing the egg on the spoon. Play circus music to add to the fun!
About the crafter:
Vicki O'Dell "The Creative Goddess" is a professional designer, presenter, teacher, social media marketer, and writer specializing in the craft and creative lifestyle industries. Vicki has created for craft industry catalogs, trade shows, retail advertising, store displays, trade websites, art and craft fairs and blogs. Her interior design work has been on television for DIY, HGTV, and Public Television. She has also done behind the scenes video work for Office Max, The Ohio Lottery and others.