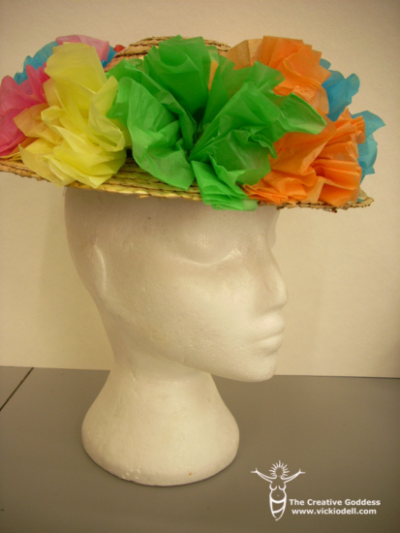 Colorful Clown Hat
Make this colorful hat and put on your own circus! It's also great fun for Halloween.
Supplies:
Multi-colored tissue paper
Straw Hat
Pipe cleaners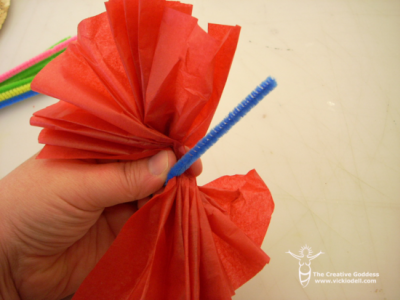 Cut a piece of tissue paper in thirds and stack the pieces together.
Accordion fold the tissue. Don't be neat and exact and don't crease the paper any more than necessary. It's more like accordion BENDING than folding, really.
Place a pipe cleaner in the center, then fold and twist around the paper.
Carefully open the tissue to form a flower.
Attach the flowers to the hat by pushing the chenille ends through the small holes in the straw and bending flat to the inside.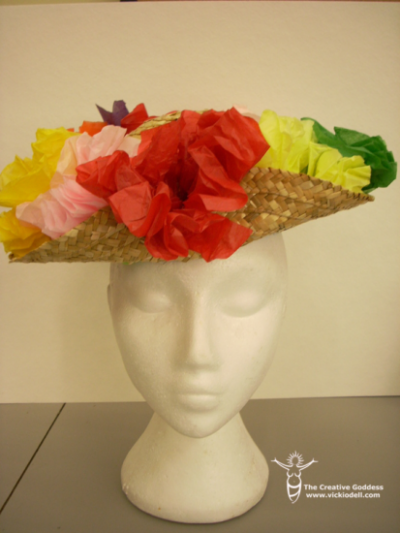 Another variation would be to fold the brim up and push a flower through both the brim and the hat to hold the brim up.
About the crafter
Vicki O'Dell "The Creative Goddess" is a professional designer, presenter, teacher, social media marketer, and writer specializing in the craft and creative lifestyle industries. Vicki has created for craft industry catalogs, trade shows, retail advertising, store displays, trade websites, art and craft fairs and blogs. Her interior design work has been on television for DIY, HGTV, and Public Television. She has also done behind the scenes video work for Office Max, The Ohio Lottery and others.