Many families visit the zoo each year to see and learn about hundreds of different animals. Use one of our zoo animal crafts to help remember your special family outing! Pandas, monkeys, giraffes, lions, elephants, penguins and so much more – whatever your favorite, you'll find over 1800 animal craft ideas at Fun Family Crafts. Below are ten of our favorites.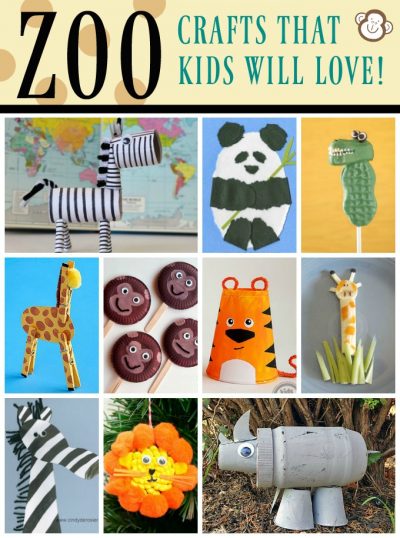 Zoo Crafts and Recipes for Kids
1. Giraffe Snack – This tasty giraffe snack is made with bananas and other healthy ingredients. It definitely makes snack time fun!
2. Cardboard Tube Zebra – Raid the recycling bin to find the materials to make this cute zebra.
3. Recycled Rhino – Turn an empty peanut butter jar and a few cups into an adorable rhino. What a great way to reuse recyclables!
4. Torn Paper Panda – Did you know that you can "cut" paper using a q-tip? Use this fun technique to make a furry panda out of construction paper.
5. Monkey Noisemakers – Use paper plates and beans to create these fun little monkey noisemakers. They don't sound quite like the monkeys at the zoo, but they're just as noisy!
6. Clothespin Giraffe – This clever giraffe stands up on its own, thanks to its sturdy clothespin legs.
7. Footprint Zebra – It's easy and fun to turn your footprint into a zebra with lots of personality! It makes a nice keepsake, too.
8. Alligator Cookie Pop – Turn Nutter Butters and a few other store-bought ingredients into super cute Alligator Cookie Pops.
9. Foam Cup Safari Animals – Use foam cups to create your own set of safari animals, including a monkey, giraffe and tiger.
10. Pine Cone Lion – This cute lion started out as a pine cone! It's a fun and easy nature craft that kids will love.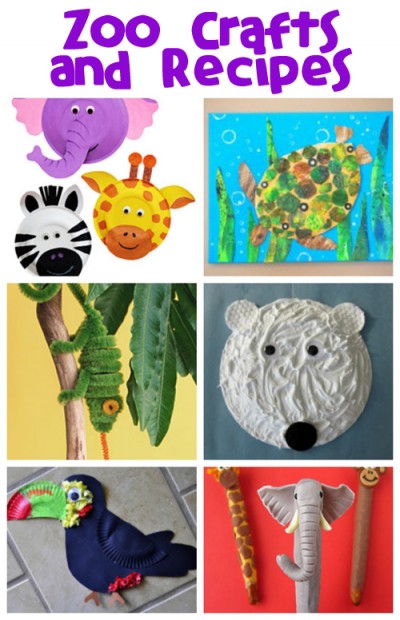 Don't forget to see all of our 1800+ animal craft tutorials!