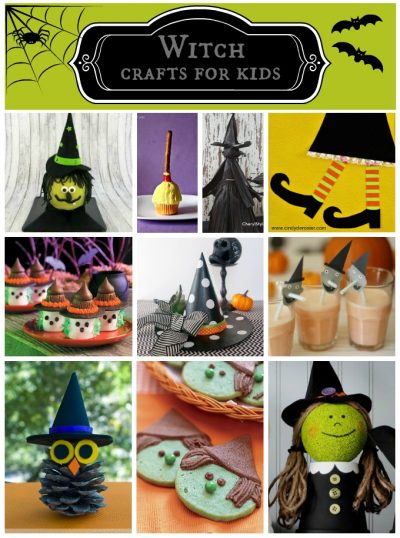 Witch Crafts and Recipes
Fun crafts (like cute broom-shaped cupcakes, smiling witch-faced cookies, and adorable pointy hats) take the scary and the evil out of Halloween witches. Here at Fun Family Crafts, we've gathered over 50 witch-themed crafts for kids of all ages. Below are ten of our favorites. Be sure to see all the witch themed crafts we have for you. The rest of our Halloween crafts, recipes, printables and costumes (over 1000 of them!) are waiting for you too!
1. Witchy Pinecone Owl – Gather pinecones, and then turn them into these cute witchy owls to use as decorations, party favors, or place cards for Halloween.
2. Dyed Cornhusk Witch – Dye dried cornhusks orange or black, and then use them to make witches to decorate for Halloween.
3. Witch Caramel Apple – Transform a yummy caramel apple into a friendly witch using fondant and a purchased hat. What fun!
4. Construction Paper Witch Legs – Use scraps of construction paper and lace to create a pair of witch legs. Be creative!
5. Witch Straw Toppers – Personalize your drinks and make a party extra special by crafting some adorable witch straw toppers.
6. Witch's Broom Cupcake – Can you guess what tasty treat is hidden inside the broom to give it shape? Take a peek at the tutorial to find out!
7. Polka Dot Witch Hat – Create a stunning centerpiece for a Halloween table in just a few easy steps with this fun project.
8. Marshmallow Witches – These no-bake marshmallow witches are easy to prepare and kids will love assembling (and eating!) them.
9. Witchy Cookies – Store-bought cookie dough makes these cute cookies so easy to do and bewitchingly tasty.
10. Flower Pot Witch – Turn a clay pot into an adorable witch decoration. It's easy to do and lots of fun.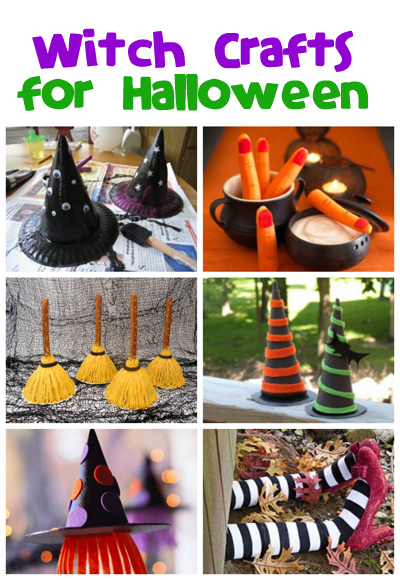 Don't forget to check out the rest of the witch themed crafts we have for you!