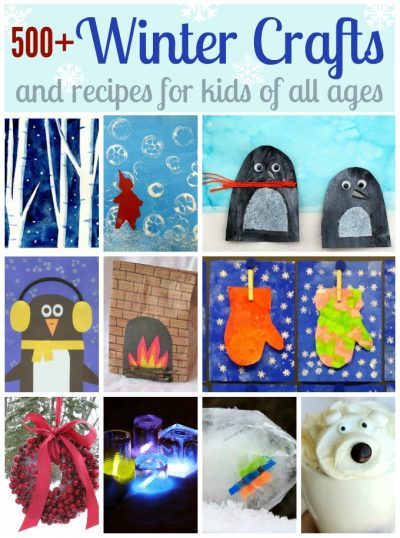 Winter is here, and brrr, it's cold outside! Celebrate the season by crafting with your kids. Here at Fun Family Crafts, we have over 500 winter crafts and recipes for kids, including ideas for out in the elements or inside where it's warm. Below are ten of our favorites.
Winter Crafts and Recipes
1. 'The Snowy Day' Craft – Use empty spools, bubble wrap, and other items from the recycling bin to make this cool artwork inspired by a beloved classic, 'The Snowy Day' by Ezra Jack Keats.
2. Winter Mitten Art – Brighten a cold winter's day by using leftover tissue paper to make these colorful winter mittens.
3. Paper Bag Fireplace – This paper bag fireplace that is a great addition to wintertime pretend play.
4. Earmuff Penguin – Make a construction paper penguin wearing earmuffs and a scarf. It couldn't be cuter!
5. Polar Bear White Hot Chocolate – Looking for a special treat for a cold winter's day? This cute polar bear is actually a delicious mug of white hot chocolate.
6. Cranberry Ice Wreath – Frozen cranberries make a beautiful ice wreath. The birds will love it and the kids will really enjoy making it.
7. Penguin Painting – This easy painting project is simple enough for toddlers and still lots of fun for older kids. Salt and glitter make the snow and ice sparkle.
8. Winter Birch Trees – Create a beautiful winter scene featuring birch trees using tape, watercolor paint, and salt for the textured midnight sky.
9. Icy Treasure Hunt – On this treasure hunt, the clues are frozen in ice! Free the clues to spell a word that leads to the next destination.
10. Glow Stick Ice Luminaries – Make glowing luminaries to light up those frigid nights this winter. It's easy to do and they're so pretty.
Don't forget to check out the rest of the kid-friendly winter crafts and recipes!