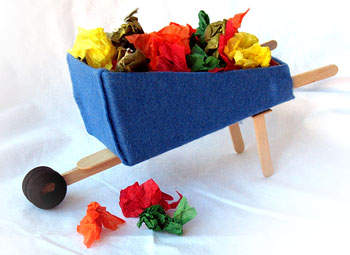 Wheelbarrow of Leaves
What better way to collect all those falling leaves than with a wheelbarrow? Have fun with this cute autumn project.
What You Need:
small cardboard box
3 popsicle sticks
2 miniature popsicle sticks
1 sheet of blue paper or felt
2 round wooden doll stands
8 cotton balls
Tissue paper in fall colors
Black acrylic paint
Scissors
White glue (and hot glue)
Ruler and pencil
How to Make It:
Place box on work surface. Starting at the bottom of the box, measure 3 inches up and cut the top off. You will be left with a 3-inch tall box.
With the front of the box facing you, measure 1-inch up from the bottom (measure at the left corner) and mark that spot with a pencil. Use a ruler and pencil to draw a line from the marking you just made up to the far right (upper) corner of the box.
Cut along the line to create the angled wheelbarrow body. Repeat this same process on the other side of the box.
Glue two miniature popsicle sticks to the short sides of the box for the wheelbarrow handles.
Cover the cardboard with blue paper or felt using glue.
Turn the wheelbarrow body upside down. Glue a popsicle stick in the center, leaving about 1-inch of the stick poking out from the tall end of the box. Refer to the photo; this is the popsicle stick that shows above the front wheel.
With wheelbarrow still upside down, glue a second popsicle stick over the top of the first, only this one will protrude about 3-inches out from the box AND will be standing on end rather than laying flat with the other stick.
Paint the two wooden doll stands with black paint and let dry. When they are dry, glue the two flat sides together, sandwiching the protruding stick in between.
To create the legs, cut a popsicle stick in half. Have a grown up hot glue the cut ends to the bottom of the box at the short end (near the wheelbarrow handles).
Turn wheelbarrow right side up and glue cotton balls into the box (provides height).
Crumple small pieces of tissue paper and glue on top of cotton balls.
This project was created by Amanda Formaro, originally for Kaboose/Spoonful.