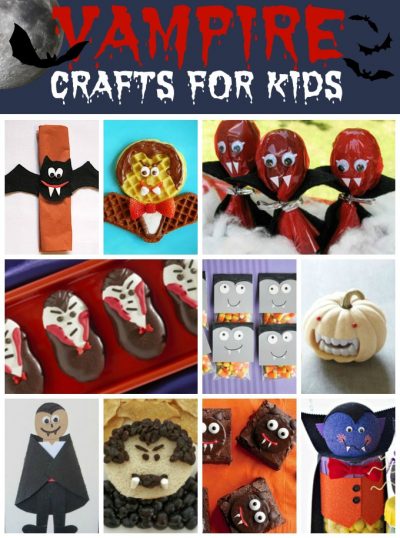 Halloween wouldn't be complete without Count Dracula. Here at Fun Family Crafts, we've gathered several dozen vampire crafts and recipes for you to make! You'll find a wide variety of projects that will appear to kids of all ages. (Adults will love them, too!) We've linked to ten of our favorites below.
Vampire Crafts and Recipes
1. Dracula Waffle Breakfast – Start Halloween off right with this creative breakfast, inspired by Dracula himself. Store-bought waffles make it easy.
2. Vampire Lollipops – These vampire lollipops make great favors for a Halloween party or trunk-or-treat event. They're simple to make and couldn't be cuter!
3. Vampire Card – Send Halloween greetings to friends or family with this cute vampire card. The cape opens up to reveal your message.
4. Vampire Cat Brownies – These minty vampire brownies look and taste spooktacular and are great fun for any Halloween celebration.
5. Vampire Candy Jar – Turn a clear glass jar into vampire. You can give it as a gift, keep it as a decoration, or award it to whoever guesses how many candies are inside.
6. Fanged Pumpkins – Make a "Drac-o'-lantern" this Halloween! Add some bats to complete the Transylvanian scene.
7. Nutter Butter Draculas – Create a plate full of vampires using Nutter Butter cookies. They look great and taste good, too!
8. Vampire Teeth Party Favors – Craft treat toppers to hold candy corn that are shaped like Count Dracula's famous teeth.
9. Vampire Bat Napkin Rings – Decorate your Halloween table with vampire bats napkin rings that add a touch of quirky fun!
10. Dracula Lunch – Turn an ordinary lunch into something special by making it look like Dracula!
Be sure to check out the rest of our vampire crafts and recipes. All of our Halloween crafts, recipes, printables and costumes (over 1000 of them!) are waiting for you too!