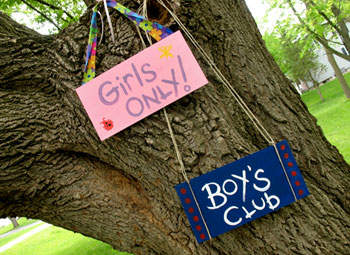 Treehouse Signs
Treehouses are so much fun! Make a fun sign to express the treehouse rules.
What You Need:
Wood plank or slat
Craft paint
Large and small paintbrushes
Foam stamps for decorating
Twine or fabric
White craft glue
Sealer
How To Make It:
Paint the wood slat whatever color you like and let it dry.
Use a thin paintbrush to write your "rules" on the slat, use a contrasting color so it can be seen.
Use foam stamps to decorate your sign if you wish.
When everything is dry, paint on a coat of sealer.
For the hanger, you can cut a strip of fabric, about 1.5 inches wide and glue each end to the back, or use jute or twine to tie around both the left and right sides, then tie in a knot at the top. Secure the jute with some glue.
This project was created by Amanda Formaro, originally for Kaboose/Spoonful.