What would late summer and early fall be without sunflowers? A lot less cheerful, that's for sure! Did you know there are over 70 species of sunflowers? We've gathered some of the best kid-friendly sunflower crafts and recipes starring this beautiful family of flowers for you to make and enjoy. Below are 10 of our favorites.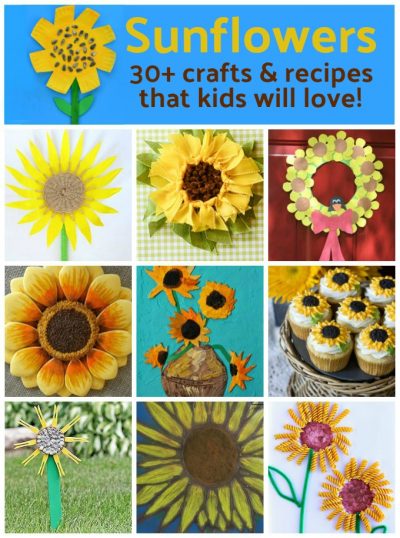 Sunflower Crafts and Recipes
1. Rotini Noodle Sunflower – Dig into the pantry for noodles, then get crafting! This fun craft is really hands-on, since the center of the sunflowers are made with fingerprints.
2. Sunflower Cookies and Brownie – This beautiful sunflower is actually a tray of cookies with a sharing-size brownie in the center. Don't be surprised to see the petals disappear one by one!
3. Van Gogh Sunflowers – Make a stunning mixed-media piece, inspired by Vincent Van Gogh's sunflowers. Look at the amazing texture!
4. Woven Paper Plate Sunflower – Use a paper plate and yarn to weave a beautiful sunflower. This easy project is fun take on traditional weaving.
5. Sunflower Cupcakes – Cupcakes make practically anything better. Celebrate a special day (or an ordinary day!) with yummy lemon cupcakes, decorated with make-ahead sunflower toppers.
6. Sunflower Wreath – This fall wreath is made almost entirely from construction paper. The crow adds such a fun touch.
7. Ribbon Sunflower Gift Topper – Create an eye-catching sunflower gift topper using ribbon and pom poms. If you can tie a knot, you can make this.
8. Clothespin Sunflower – Make a sunflower using clothespins, a paint stir stick, a jar lid, and sunflower seeds. It looks so pretty in the garden.
10. Glue-Resist Sunflower – This colorful sunflower starts with ordinary white glue. Once it's dry, pastels make it pop!
Be sure to look at the many other sunflower craft tutorials we have at Fun Family Crafts!