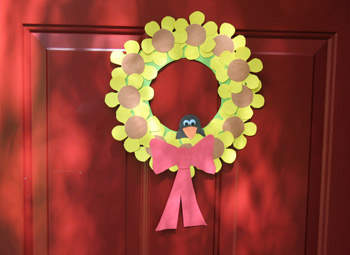 Sunflower Wreath
This adorable fall wreath, made almost completely from construction paper, will look adorable hanging on your door!
What you'll need
1 paper plate
Construction paper: yellow (2 sheets), brown, red, orange, and black
Leaf green acrylic paint
2 wiggle eyes
4" piece of white yarn
Scissors
White craft glue
Sturdy tape (such as packaging or shipping tape)
Flower cookie cutter or our pattern
How to make it
Using flower shaped cookie cutter, trace out 12 flowers. One sheet of construction paper will yield 6. Cut the flowers out and set aside.
Trace 12 circles from brown construction paper and cut them out.
Lay paper plate on the work surface, bottom of the plate facing up. Cut 1" slits around the edge of the plate, about every 3". This will allow the curvature of the plate to flatten out.Cut the center of the plate out as well. Paint the plate ring with green paint and set aside to dry.
While paint is drying, assemble the flowers. Place a flower on the work surface, making sure that pencil marks are on the back (facing down). Glue a brown circle in the center of the flower. Repeat for all 12 flowers. Set aside to dry.
Cut out the crow from black construction paper. Cut out the beak from the orange paper. Glue the beak to the head, and glue the wings to the body.
Glue wiggle eyes on the crow. Cut out the bow from red construction paper. Glue the center knot of the bow on, this gives it a 3-D look. Set crow and bow aside.
Lay the paper plate ring on the table, green side facing up. Place a sunflower at the top, one at the bottom, and one on each side (like a clock at 12:00, 3:00, 6:00 and 9:00). Position them so that they hang over the outside edge of the ring, and their petals don't quite touch the center ring. Glue in place.
Next, glue a flower to the left of the top one, slightly overlapping the first. Do the same for the remaining three flowers. Fill the final gaps with remaining flowers. Turn the wreath upside down and press against the backside of the paper plate to secure the glue from the flowers. Let dry, but check it occasionally to make sure it's not sticking to the work surface.
Glue the piece of yarn to the back of the plate as a hanger. Turn the wreath right side up. Pick it up by the hanger to determine where the bottom of the wreath is, then lay it back down.
Glue the crow to the bottom of the wreath. Glue the red bow below the crow. Use glue to secure loose flower petals so that they do not catch on anything. Allow everything to dry before hanging.
This project was created by Amanda Formaro, originally for Kaboose/Spoonful.