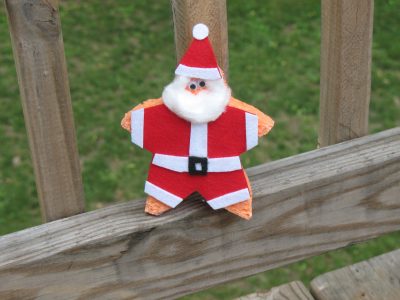 Starfish Santa
Ever wonder what Santa looks like in an underwater world? We think we have it figured out!
What You Need
Large pink, orange, or yellow household sponge (or 2 medium)
Instant grab glue
Marker
1 cotton ball
2 small googly eyes
½ sheet each of white and red felt
Small scrap of black felt
Scissors
Felt glue
How To Make It
Cut out star shaped pattern. Place pattern onto large household sponge. If using 2 sponges, first glue them together with instant grab glue and let glue adhere.
Use a marker to trace star shape onto the sponge, then cut out the star from the sponge.
Use the Santa suit pattern to cut out the pieces from red and white felt. The red suit should be one complete piece. Cut the buckle from the black felt scrap.
Glue the red suit onto the sponge, then glue the white suit pieces on top of the red suit. Do not glue on the hat yet. Glue the buckle on last.
Pull a cotton ball apart and spread around the face area to create a beard and hair, glue in place.
Glue the hat, brim and pom-pom in place.
Glue on googly eyes.
Helpful Hints
You can find household sponges at a dollar store.
Instant grab glue adheres much faster than regular white craft glue and it won't soak into the sponge.
For thicker sponges, children may need assistance from a parent to cut out the star.
This project was created by Amanda Formaro, originally for Kaboose/Spoonful.