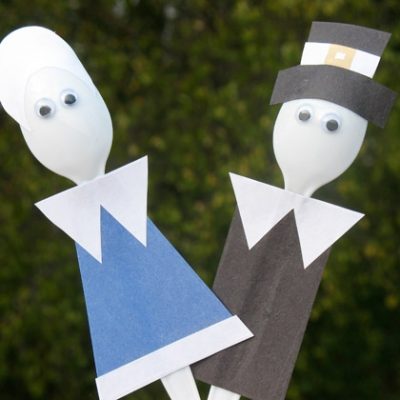 These cute little spoon pilgrims are a great project for little ones this Thanksgiving. Simple materials including plastic spoons and construction paper are what make up this cute couple.
Make Spoon Pilgrims
Make adorable pilgrims puppets out of plastic spoons! These spoon pilgrims make a great activity for kids while the adults are busy with Thanksgiving dinner. Plastic spoons, constructions paper and googly eyes are all that are needed.
What you'll need

Instructions:
Draw simple shapes for the kids to use as hats, clothes and collars. Cut out clothing and man's hat from blue, gray, black or brown paper. Cut the collars, hat band, woman's bonnet and skirt hem from white paper.
Glue clothing together per photo. Glue clothing and hats to the handles of the spoons. Make sure the spoons are back side facing up.
Glue the wiggle eyes to the spoon faces. Let everything dry.
You can use a gold paint pen to draw on a buckle for the man's hat.
Helpful Tip:
Felt can be used in place of the construction paper. If you do use felt, use felt glue instead of white craft glue.
Instead of wiggle eyes, children can draw their pilgrim faces on with a marker.
If you would like to embellish your pilgrims, draw and cut out items for them to hold such as a bowl of corn or a musket. Cut simple arms from strips of construction paper that match the color of their clothing.
If you liked this, you might also like these pilgrim napkin rings!
This project was created by Amanda Formaro, originally for Kaboose