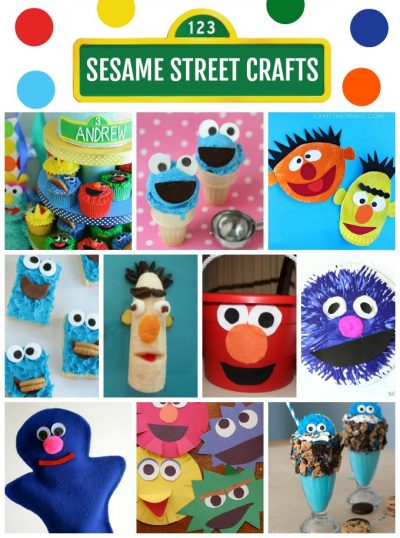 Sesame Street has been delighting young children since its debut in November 1969. Millions have grown up with Big Bird, Bert and Ernie, Oscar the Grouch, Cookie Monster, and the rest of the lovable gang. Here at Fun Family Crafts, we've gathered some of the best Sesame Street crafts for kids. Ten of our favorites are listed below.
Sesame Street Crafts
1. Sesame Street Characters Cutting Craft – Preschoolers develop fine-motor skills as they make Cookie Monster, Elmo, Big Bird, and Oscar the Grouch from construction paper.
2. Paper Plate Ernie and Bert – Turn paper plates into the lovable duo, Ernie and Bert! Preschoolers will love this fun craft.
3. Cookie Monster Cone – Use a simple, four-ingredient cotton candy ice cream to make adorable Cookie Monster Ice Cream Cones. No ice cream machine required!
4. Grover Hand Puppet – Sesame Street fans will love making and playing with a hand puppet of that lovable, furry monster, Grover!
5. Sesame Street Cupcakes – Make a birthday party extra special with cupcakes that look like Cookie Monster, Elmo, Big Bird and Oscar the Grouch.
6. Elmo Bucket – Use felt to transform an inexpensive red bucket into an Elmo container that preschoolers will adore.
7. Coffee Filter Grover – Use a coffee filter to make Grover and follow it up by reading 'The Monster at the End of This Book.'
8. Cookie Monster Rice Krispie Treats – Turn store-bought cereal treats into adorable Cookie Monster Rice Krispie Treats for a Sesame Street themed birthday party or as a special snack.
9. Bert and Ernie Fruit Snack – For a healthy snack that's lots of fun, turn fruit into Sesame Street's famous duo, Bert and Ernie.
10. Cookie Monster Freakshake – These Cookie Monster Freakshakes couldn't be cuter. They're great fun to make and just as much fun to eat!
Be sure to check out the rest of the Sesame Street crafts that we've gathered for you!