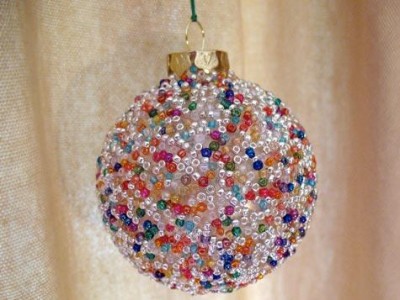 Seed Bead Ball Ornament
Get ready for the ooh's and ahh's from this super easy project! This pretty bauble is completely covered in tiny seed beads, giving this ornament a bumpy exterior that looks beautiful against the Christmas lights.
What You Need:
Glass ball ornament
White craft glue
Wide paintbrush
Seed beads
Bowl
String for hanging
How To Make It:
Place the seed beads into a bowl.
Pipe glue all over the ornament and spread it around with a paintbrush, creating an even coat. Hold the ornament by the hanger and roll it around in the seed beads. The beads will stick to the ornament, but you can lift beads with your fingers and sprinkle them on to fill any missed spots.
Run some string through the ornament hanger and hang somewhere safe to dry.
Helpful Hints:
This is such a simple project that even the littlest of children can do it. Because the seed beads are very small, be sure to supervise and don't allow children to put beads into their mouths.
Seed beads can be found in the jewelry section of your local craft supply store.
White school glue can be used in place of white craft glue.
This project was created by Amanda Formaro, originally for Kaboose/Spoonful.