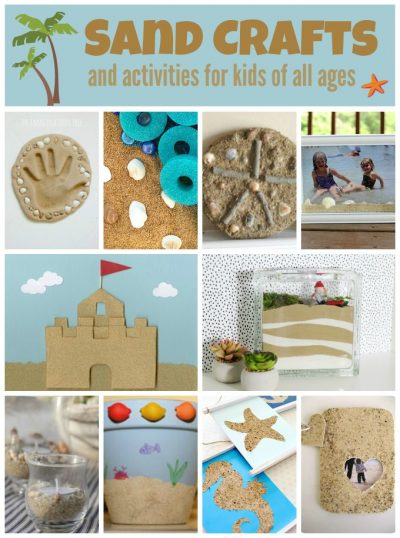 Playing in sand is a great sensory activity, and so much fun! Kids can build, scoop, and mash, creating, destroying, and rebuilding. There are lots of crafts you can make using sand as a supply as well. Play in the Sand Day is officially recognized on August 11th, but these projects aren't just for summer. Here are ten of our favorites. Be sure to check out all the sand crafts and activities we have to share.
Sand Crafts and Activities
1. Sand Clay Handprint – Capture little handprints forever with this sand modeling clay. It dries to look just like damp sand!
2. Seaside Sensory Bin – Bring sand play indoors with this fun sensory bin, filled with sand, shells, and other items that evoke the ocean.
3. Beachy Love Card – Make this simple beach card for someone special or display it around the house to remember a wonderful day by the shore.
4. Sand Shape Art – Double-sided tape is the secret behind this easy, relatively mess-free sand craft.
5. Sandpaper Sand Castle – By crafting with sandpaper, kids can create a sand castle that will last long after the tide comes in!
6. Beach Shadow Box – Collect sand and shells during a special visit to the seashore, then use them to create a beach shadow box to display a favorite photo from the trip.
7. Ocean Flower Pot – Transform a plain clay pot into a special planter that is inspired by the ocean.
8. Sand Cast Starfish – Create a sand cast starfish using sticks, rocks, and seashells. It's a wonderful keepsake you can make right at the beach.
9. Sand and Seashell Votives – These lovely candles are perfect for a beach-themed party and clean-up couldn't be easier.
10. Indoor Fairy Garden – Bring fairy gardens indoors with this lovely idea featuring layered sand.
Don't forget to see the rest of the sand crafts and activities we've collected!