Rainbow crafts are really popular with the kids. You often see them with St. Patrick's Day craft projects and throughout spring. April 3rd has even been dubbed "Find a Rainbow Day"! So get outside after a rain and look for the rainbows. Then, head indoors to make one (or more!) of our fun rainbow crafts or recipes.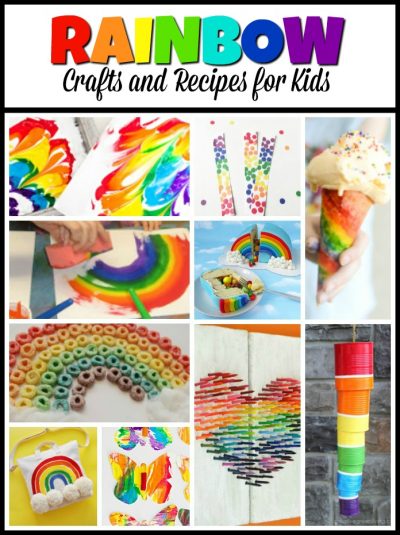 Below are 10 of our favorite rainbow crafts, edibles and activities as pictured above. You can find TONS more here.
Rainbow Crafts and Recipes
1. Rainbow Pom Pom Tote Bag – This beautiful bag is decorated with felt and pom poms. It requires no sewing and is sure to put a smile on anyone's face.
2. Cereal Rainbow – Use Froot Loops or other colorful cereal to make this rainbow project. It's excellent for fine motor development and practicing for sorting and color recognition.
3. Rainbow Piñata Cake – This stunning cake has a colorful surprise inside! Bake it for a birthday, St. Patrick's Day or to make an ordinary day extra special.
4. Rainbow Sponge Painting – Use a sponge to create stunning paintings of rainbows in just one swoop. It's almost like magic!
5. Rainbow Marbled Butterfly Art – Create gorgeous rainbow butterfly art with marbled paper. Each is different and as pretty as can be.
6. Painted Rainbow Ice Cream Cone – Turn plain ice cream cones into edible works of art with food coloring. Kids (and adults) of all ages will love it!
7. Rainbow Shaving Cream Marbled Art – Make vibrant rainbow prints using shaving cream! They're beautiful as is, or can be made into cards or other items.
8. Rainbow Bookmarks – These Rainbow Bookmarks are easy enough for even the youngest of crafters. Work on color recognition, fine motor skills, and create a beautiful project at the same time.
9. Rainbow Wind Chime – Create a stunning wind chime from recycled cans. It's a wonderful project for the whole family to make together.
10. Rainbow Crayon Wall Art – Make a dimensional work of art with crayons and foam. It's easy to do and looks spectacular!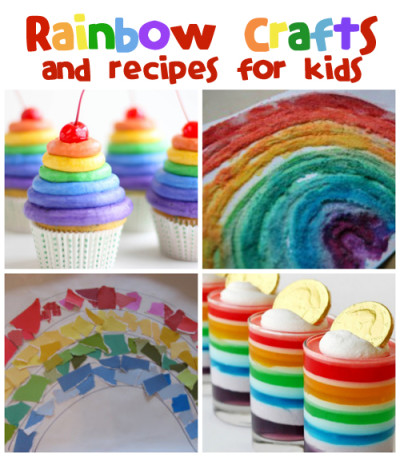 Be sure to check out the rest of our cute and colorful rainbow crafts and recipes!