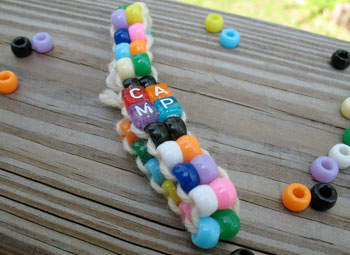 Pony Bead Camp Bracelet
This cool project is great for almost any age. Working with beads is fun and this method is very easy. You can make your bracelet say any word or phrase you want!
There are affiliate links in this post. That means if you buy something from that link, I will earn a small commission, but it won't cost you anything additional.
What You Need
How To Make It
Hold the end of the yarn in the fingers of your left hand, and grab the remaining yarn with your right hand. Stretch the yarn out the full length of your outstretched arms. This is the length that you will need for your bracelet.
Put the two cut ends of the yarn together then tie a knot in the looped end. Tape the looped end to the table to keep it still while you work.
Before adding any beads, put a little bit of white craft glue on the ends of the yarn and twist it in your fingers. Let the glue dry for a couple of minutes. This will make it easier to thread the beads on.
With the yarn in front of you, separate the two strands, one on the left, and the other on the right. Thread two beads onto the left strand.
Thread the right strand through those same beads. Now you should have two beads with a yarn strand coming out both sides.
Pull both ends of the yarn, raising the beads up to the knot.
Repeat steps 4 and 5 until you have about half the length you want. Add the alphabet beads to spell out CAMP or your name.
 After adding alphabet beads, continue adding pony beads until you have enough for the length you want.
Tie the ends together.
This project was created by Amanda Formaro, originally for Kaboose/Spoonful.