Ahoy! September 19 is Talk Like a Pirate Day. Celebrate with some fun pirate crafts that are perfect for your swashbuckling youngsters. We have collected over 40 pirate crafts for your kids, including treasure maps, pirate ships, parrots, the Jolly Roger and more.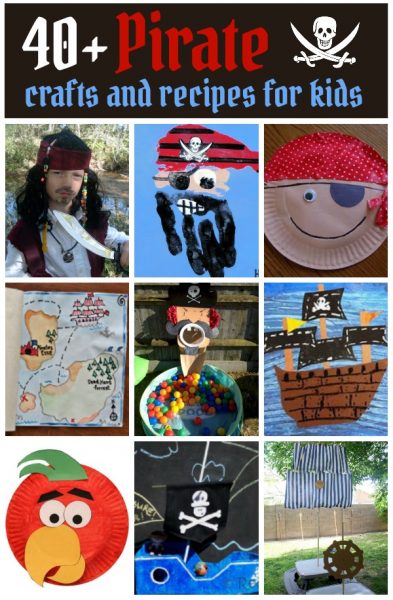 Below are 10 of our favorite pirate crafts. You can see all 40+ pirate crafts here.
Pirate Crafts
1. Pirate Ship – This cool project combines many different art techniques, including drawing, cutting and shaping with paper, painting waves and composition. It's great for a wide variety of ages.
2. Paper Plate Pirate – Make a friendly pirate using a paper plate! Hang it as a decoration or turn it into a mask for dress-up play.
3. Canvas Treasure Map – This awesome treasure map craft is made with stretched canvas, water colors and puffy paint. It's so much fun for imaginative play.
4. Cardboard Pirate Boat – Make a pirate ship using recycled cardboard and paint. Add paper mache for extra durability, then play with this pirate craft for hours on end!
5. Pirate Ball Toss Game – Make this game for a themed birthday party or just for fun.  It starts with a piece of cardboard.
6. Pirate Photo Booth – Use your imagination and make accessories for a pirate photo booth! You'll love the pictures you'll get.
7. Jack Sparrow Costume – Dress up like Jack Sparrow with this no-sew costume. It's the perfect pirate costume for Halloween or for everyday dress-up play.
8. Paper Plate Parrot – What's a pirate without his parrot?! Use this pirate craft as a decoration, or cut out eyeholes and glue on a tongue depressor to make it into a mask.
9. Backyard Pirate Ship – Decorate for a pirate-themed party or make a fun pirate play area outdoors. This pirate mast couldn't be cooler.
10. Handprint Pirates – Turn your handprints into pirates! It's an easy pirate craft to make and a lot of fun.
Check out all the Pirate Crafts here!