Pineapple makes people think of sunny days at the beach, warm breezes, and tropical music. Bring that island vibe home with one (or more!) of our kid-friendly pineapple crafts and recipes! Below are ten of our favorites.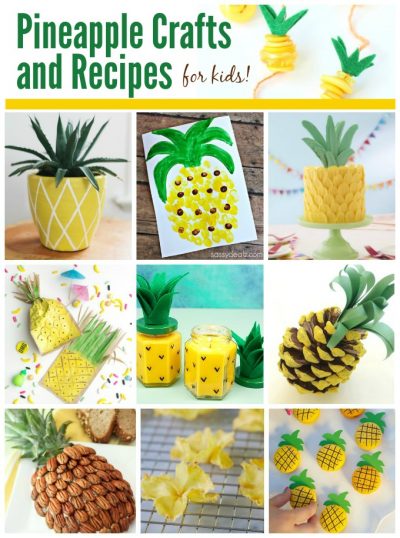 Pineapple Crafts and Recipes
1. Pineapple Candles – Create a beautiful candle that looks and smells just like a pineapple. They make great gifts, too!
2. Pineapple Macarons – Turn store-bought macarons into little pineapples! This craft is so easy to do and the kids will love it.
3. Pineapple Favor Bags – Send guests home from your luau or other celebration with pineapple favor bags. They start with simple and inexpensive brown paper bags.
4. Pineapple Cream Cheese Spread – Serve pineapple cream cheese spread at your next party and watch it disappear before your eyes!
5. Fingerprint Pineapple – Use your fingerprints to make a pineapple. Follow up this fun craft by washing your hands and enjoying a delicious wedge of pineapple!
6. Pinecone Pineapple – Collect pinecones during a nature walk, then turn them into pineapples with a little bit of paint and construction paper.
7. Pineapple Necklace – Create a darling pineapple necklace using buttons and felt. It's fun to make and even more fun to wear!
8. Pineapple Plant Pot – In just a few simple steps, turn a plain pot and a succulent into an eye-catching pineapple! It makes a fantastic gift.
9. Dried Pineapple Flowers – Dried pineapple flowers look beautiful and taste delicious. They're surprisingly easy to make.
10. Pineapple Cake – This pineapple cake looks as good as it tastes! Serve it up at a luau or other summer celebration.
Be sure to check out all the fabulous pineapple crafts and recipes we've gathered here at Fun Family Crafts!