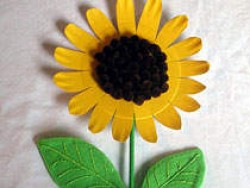 Paper Plate Sunflower
Turn a paper plate into a pretty sunflower! This easy craft is perfect for summer or fall.
What you need:
Paper plate
Craft paint (yellow, brown, and green)
Brown pom-poms
Dowel
Green felt
Green puff paint
Scissors
Glue
Hot glue gun
How you make it:
Use the scissors to cut triangle-shaped notches all around the circumference of the plate to make the leaves of the sunflower. Round them off so they look like petals.
Paint the paper plate yellow with a brown center.
Paint the dowel green.
Use the scissors to cut two large green leaves.
Draw the veins of the leaves onto the felt using puff paint. Start with one line down the center, then add pairs of arching lines (like a wide V) along the length of the first line.
Glue pom-poms to the center of the paper plate.
When everything is completely dry, assemble the pieces using the hot glue gun. Start by gluing the dowel to the back of the plate. Then glue the two leaves in place.
This project was created by Amanda Formaro, originally for Kaboose/Spoonful.