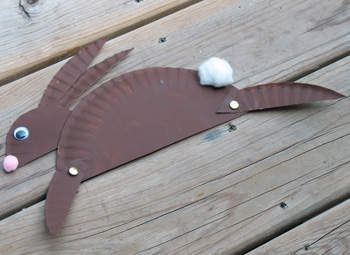 Paper Plate Rabbit
This cute rabbit made from paper plates has moveable parts! It can be made as a spring craft, Easter or even Chinese New Year during the Year of the Rabbit.
What You Need
2 9"-paper plates
Brown craft paint or markers
2 paper fasteners
Scissors
Pen
1 cotton ball
1 small pink pom-pom
1 medium googly eye
White craft glue
How To Make It
Turn the paper plates upside down and paint brown or color with brown marker. Let dry.
Cut one paper plate in half, then trim off an additional inch from the straight cut edge.
Using the pattern as a guide, cut out 2 ears and 1 of all the other pattern pieces. Use the natural curve of the paper plates when cutting out each piece. Save the scrap pieces for another project or discard.
Position the back leg over the bottom right side of the body. Holding the two pieces together, poke the tip of a pen through the plates then insert a paper fastener. Repeat this step with the front leg as well.
Attach the head to the back of the body using tape. Attach the ears to the back of the head using tape.
Glue cotton ball on as tail and the pink pom-pom on as the nose. Attach the googly eye using white glue as well.
Helpful Hints
You can save the excess bits of paper plate to use in a future project.
A white pom-pom or a white construction paper circle can be used in place of the cotton ball.
Craft foam can also be used to substitute for nose and tail supplies.
This project was created by Amanda Formaro, originally for Kaboose/Spoonful.